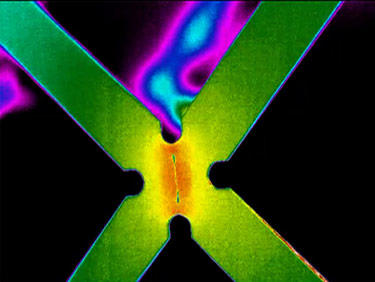 Want to make more fuel-efficient cars and trucks? Build them out of lighter materials.
Sounds easy, but it's not. Automakers have decades of experience with the traditional car materials like steel. They know pretty well how they will behave at every step of the complex process of making an automobile—knowledge that's vitally important in the design of the manufacturing molds and dies.
But the new, high-tech alloys and composite materials? Not so much.
New metals are lighter and stronger. This means they can sustain more collision forces, if properly engineered. But it also means that they resist the stress of twisting, stretching and squeezing, making them fussier to press into desired shapes. So automakers and their suppliers are turning to the National Institute of Standards and Technology (NIST) and its new Center for Automotive Lightweighting (NCAL) for information key to the manufacturability of these materials.
The NIST research center specializes in measuring how the new materials are strained in response to the stresses of forming operations that shape them into hoods, fenders, door panels, floor pans and other parts.
Center-supplied information also guides design decisions that will impact the performance, durability and crashworthiness of future cars and trucks.