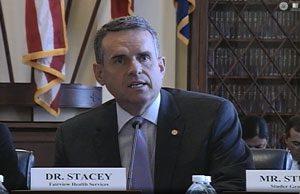 Dr. Rulon Stacey, chair of the Board of Overseers of the Malcolm Baldrige National Quality Award, spoke of the value of the Baldrige approach to performance improvement Wednesday before the House Committee on Veterans' Affairs. Stacey was among four U.S. health care leaders and experts included in a panel hearing entitled, "Creating Efficiency through Comparison: An Evaluation of Private Sector Best Practices and the VA Health Care System." Following are excerpts from Stacey's statement to the congressional committee:
"While the issues faced by the VA today are significant, they present you with problems similar in nature to the issues each of our [U.S. health] systems are facing; specifically, How do we increase access and quality in light of limited resources?

"The processes by which we can improve clinical outcomes are not unique. The challenge, I would suggest, is to find proven improvement methodologies at cross-care settings that can benefit any health care organization, including the VA.

"To this end, we are fortunate in the United States to have the world's finest process to address these issues: The Malcolm Baldrige Performance Excellence Program, located at the National Institute of Standards and Technology in the Department of Commerce, is a public-private partnership that defines, promotes, and recognizes performance excellence in United States organizations.

"Some organizations choose to pursue the actual Baldrige Award, which carries the Presidential seal, and award recipients then share their best practices with others. Best of all, the program is up and running and available to help the VA right now... . The program initially revolutionized manufacturing in the United States, and it is now having the same effect on health care."
Stacey, an Air Force veteran, is president and CEO of Fairview Health Services in Minnesota. With 30 years of experience in health care administration, Stacey formerly served as president and CEO of Baldrige Award recipient Poudre Valley Health System in Colorado. In his statement before the House committee, Stacey also highlighted results data on improvements in health care outcomes and other measures achieved by U.S. hospitals that have used the Baldrige Health Care Criteria for Performance Excellence. For example, in 38 hospitals that were Baldrige Award finalists, the overall risk-adjusted mortality rate was 7.5% lower, the patient safety index more than 8% better, and risk-adjusted complications index 1.4% better than in 3,000 peer hospitals.
"Using a simple extrapolation, a comparable improvement in mortality in U.S. hospitals would save more than 54,000 lives and nearly $2 billion annually," Stacey told the congressional committee.
The other panelists were Dr. Monte D. Brown, vice president for administration and secretary of Duke University Health System and associate dean of veterans affairs at Duke University School of Medicine; Daniel F. Evans Jr., president and CEO of Indiana University Health; and Quinton D. Studer, founder of Studer Group, Inc., a 2010 Baldrige Award recipient.
Richard J. Umbdenstock, president and CEO of the American Hospital Association, told the committee, "Many hospitals are borrowing process improvement programs like the Baldrige Criteria for Performance Excellence to lower costs and improve overall quality."
Umbdenstock also noted the following, "The Baldrige Criteria are an organizing framework that facilitates organization-wide alignment around improvement goals and supports the development and continuous strengthening of a culture of improvement. The criteria focus on seven critical aspects of managing and performing as an organization: leadership; strategic planning; customer focus; measurement, analysis, and knowledge management; workforce focus; operations focus; and results."
Watch a recording of the complete panel discussion (Stacey's statement begins at 49:55) or read transcripts and additional information about the hearing. (links removed because they are no longer active)
The Baldrige Program offers criteria, assessments, tools, training, and leadership development to help organizations of any size and sector improve performance. It also manages the nation's highest Presidential award for performance excellence: the Malcolm Baldrige National Quality Award. For more information, contact customer service at 301-975-2036.