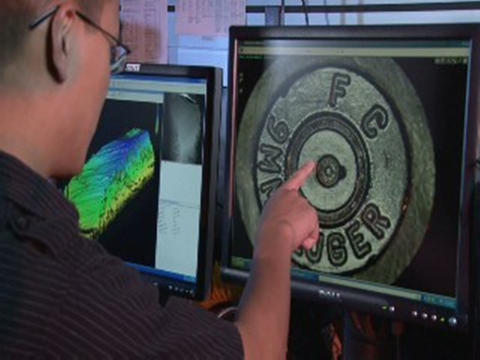 As part of its efforts to improve the scientific basis of forensic evidence used in courts of law, the U.S. Commerce Department's National Institute of Standards and Technology (NIST) and the Department of Justice (DOJ) have made the first appointments to a new organization dedicated to identifying and fostering development and adoption of standards and guidelines for the nation's forensic science community.
NIST and DOJ named 17 academic researchers and forensic science experts to the Forensic Science Standards Board (FSSB), a key component of NIST's Organization of Scientific Area Committees (OSAC), which is bringing a uniform structure to what was previously an ad hoc system.
"The appointments to the Forensic Science Standards Board essentially mark a transition from planning to doing," said NIST Acting Director Willie May. "After months of collaboration with the forensic science community, we are bringing to life this new organization that will have a positive impact on the practice of forensic science in the United States."
The board will oversee three resource committees and five scientific area committees. Subcommittees will focus on specific disciplines, including DNA, toxicology, medico-legal death investigation, facial identification, latent fingerprints and firearms and toolmarks, among others. The subcommittees will propose consensus documentary standards, for adoption by the board, to improve quality and consistency of work in the forensic science community.
The establishment of the OSAC is part of a larger collaboration between NIST and DOJ, which announced the members of a new National Commission on Forensic Science in January 2014. A NIST-DOJ membership selection team is reviewing applications for all remaining positions in the OSAC and will announce the appointments as they are completed.
The new board includes five members who represent the research community, five members who chair the OSAC scientific area committees, six members who represent national forensic science professional organizations, and one ex officio member—Mark Stolorow, director of OSAC affairs for NIST.
The research community representatives are:
Joseph Francisco, Ph.D., William E. Moore distinguished professor, Purdue University;
Anil Jain, Ph.D., distinguished professor, Michigan State University;
Karen Kafadar, Ph.D., statistics professor, Indiana University; Department of Statistics professor and chair, University of Virginia; (after 8/26/2014)
Sarah Kerrigan, Ph.D., Forensic Science Department chair, Sam Houston State University; and
Douglas Ubelaker, Ph.D., curator, Smithsonian Institution, National Museum of Natural History, Division of Physical Anthropology.
Six members were nominated by their professional associations:
Andrew Baker, M.D., National Association of Medical Examiners standards committee chair and Hennepin County Medical Examiner, Minn.;
Laurel Farrell, Society of Forensic Toxicologists director and past president and American Society of Crime Laboratory Directors/Laboratory Accreditation Board instructor;
Steven Johnson, International Association for Identification first vice president and Ideal Innovations Inc. certified latent print examiner/facial examiner;
Mark Keisler, Association of Firearm and Tool Mark Examiners past president and member-at-large and Indiana State Police Laboratory Forensic Firearms Identification Unit supervisor;
Barry Logan, Ph.D., American Academy of Forensic Sciences past president and NMS Labs vice president of Forensic Science Initiatives and chief of Forensic Toxicology; and
Jeremy Triplett, American Society of Crime Laboratory Directors advocacy committee chair and Kentucky State Police Forensic Laboratory supervisor.
Five members will chair the OSAC scientific area committees (SAC):
Richard Vorder Bruegge, Ph.D. – SAC IT/Multimedia; Federal Bureau of Investigation, senior photographic technologist;
Gregory Davis, M.D. – SAC Crime Scene/Death Investigation; University of Alabama at Birmingham, professor, division director, and chief coroner/medical examiner;
George Herrin Jr., Ph.D. – SAC Biology/DNA; Georgia Bureau of Investigation, Division of Forensic Science deputy director;
Austin Hicklin – SAC Physics/Pattern; Noblis, biometrics and forensic science fellow; and
Scott Oulton – SAC Chemistry/Instrumental Analysis; Drug Enforcement Administration, associate deputy assistant administrator.
In the future, board appointments will be for three-year terms. These first members will serve terms of two, three, or four years, to ensure continuity.
As a non-regulatory agency of the U.S. Department of Commerce, NIST promotes U.S. innovation and industrial competitiveness by advancing measurement science, standards and technology in ways that enhance economic security and improve our quality of life. To learn more about NIST, visit www.nist.gov. Learn more about OSAC.