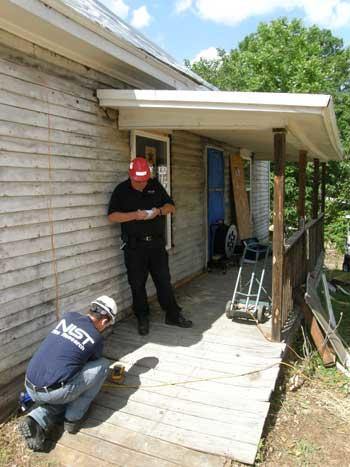 Fire researchers at the National Institute of Standards and Technology (NIST) will return to Spartanburg, S.C., on May 15-21, 2014, as part of a collaborative effort on a series of controlled-burn experiments in detached single-family homes slated for demolition.
Measurements of temperature, total heat flux and other ground truth data gathered during the live fire experiments will help the NIST team and its partners to further assess the effectiveness of new fire-suppression tactics known as transitional fire attack. Likened to the military concept of "softening the target," a transitional fire attack begins by applying water as soon as possible from the exterior of a burning house—before firefighters enter the structure—and then proceeds into the interior.
In contrast, the conventional "offensive attack" begins inside, requiring entry into the burning structure before any water is directed onto the fire.
NIST is collaborating with the International Society of Fire Service Instructors (ISFSI), the State of South Carolina Fire Training Academy and City of Spartanburg Fire Department. NIST helped to design the fire experiments and will provide measurement instruments and other equipment for recording conditions in the burning houses. The fires also will be recorded with videos and thermal imagers.
This is the second year that NIST will be collaborating with ISFSI and the South Carolina team.* ISFSI already has incorporated results and lessons learned from last year's experiments into its training programs for firefighters across the country.
The experiments will again be conducted in abandoned wood-frame, single-family houses near the site of an old textile mill, an area that is the site of a neighborhood redevelopment program.
The research project is supported by the Federal Emergency Management Agency's Assistance to Firefighters Grant Program. 
---
See "'Live Burns' in Spartanburg, S.C., Will Benefit Research and Firefighter Training."