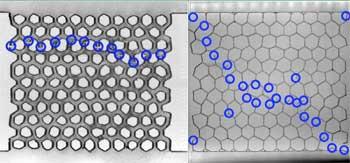 On May 29, 2014, at the White House Healthy Kids and Safe Sports Concussion Summit, President Obama highlighted both the need for greater national awareness of the risks our young athletes face from traumatic brain injuries and the need for increased research on how to combat these potentially life-altering injuries.
In a post on The Commerce Blog, Laurie E. Locascio, director of the National Institute of Standards and Technology (NIST) Material Measurement Laboratory, writes that NIST recognizes that the use of advanced materials in protective equipment, such as helmets, can play a critical role in this effort. For that reason, she says, NIST is investing $1 million per year for 5 years on tools to accelerate the development of advanced materials that can provide better protection for the athlete against concussions.
The funding is part of NIST's work on behalf of the Materials Genome Initiative (MGI), a multi-agency effort focused on replacing trial-and-error experimentation with physical theory, advanced computer models, vast materials properties databases and complex computations to design new materials with specific properties. NIST plans to work closely with the recently created Center for Hierarchical Materials Design, a NIST Center of Excellence that was established specifically to pursue tools for creating custom materials.