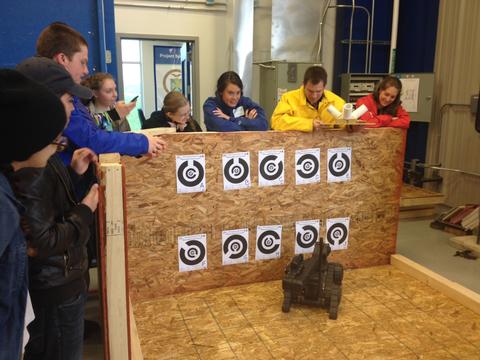 NIST rocks! 
That's what a group of Dickinson College earth science students and their professor thought after visiting the Gaithersburg, Md., campus of the National Institute of Standards and Technology on Tuesday, April 15. Jennifer Marshall, homeland security manager in the NIST Office of Special Programs, invited the group to explore science career options. Marshall, a geology graduate of Dickinson College, arranged for the students to speak with several NIST scientists whose work involves chemical analysis of rock and mineral materials.
The students, accompanied by Benjamin Edwards, Dickinson associate professor of earth sciences, spent about five hours Tuesday, April 15, visiting NIST labs, meeting NIST scientists and learning how the chemistry of rocks and minerals is relevant to real-world challenges.
Their lab visits included question and answer sessions with:
Paul Stutzman, who specializes in measuring microstructural properties of cement and concrete, and whose work is critically important to the building industry;
Jennifer Verkouteren, who works on measurement methods for explosive materials and narcotics and has done work on asbestos analysis, techniques that are necessary in public safety and health;
Robert Vocke, whose work on measuring pure silicon could help redefine the international standard for the kilogram;

Mark Tyra, who works on measurement standards for nuclear forensics – the analysis of radioactive bomb components to accurately identify their source and ultimately those responsible for radiological terror plots;

Jerome LaRosa and Svetlana Nour, who are making measurements of radiation in Japanese and Korean rice, work that will help assess the impact of the 2011 Fukushima, Japan, nuclear disaster; and  

Jacqueline Mann, who also works on measurement standards for nuclear forensics, particularly on measurements of radiation in debris from a nuclear explosion.
After touring laboratory facilities, the group saw the NIST Test Stonewall, which NIST scientists use to study the effects of weathering on stone building materials. The wall contains more than 2300 samples of stone from 47 U.S. states and 16 foreign countries.
The students also stopped by the NIST Robotics Test Facility to see a test underway. The facility allows manufacturers and users of emergency-response and industrial robots to evaluate their performance on a variety of tasks and obstacles. 
"The traditional path for geology majors is a career as a professor in academia or as a geologist for an energy company," says Marshall, "In reality, there are many other options including in federal laboratories such as NIST. This visit was an opportunity for them to think more broadly about career options and to make them aware of how federal science laboratories perform vital public service."