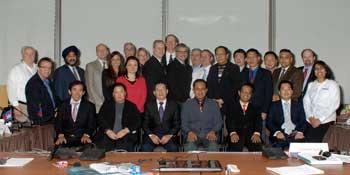 On March 24-27, 2014, leaders in standards and conformity assessment from the Association of Southeast Asian Nations (ASEAN) came to the National Institute of Standards and Technology (NIST) in Gaithersburg, Md., for intensive training sessions on U.S. standards and conformity assessment principles and practices affecting electrical and electronic equipment.
This event was part of NIST's Standards in Trade (SIT) program, which has provided a venue for discussing standards issues between leaders in U.S. business and government and their international counterparts since 1995.
"The ASEAN region is America's fourth-largest export market and the largest destination for U.S. investment in Asia, so it is appropriate that the United States and ASEAN work together to identify standards and conformity assessment needs," says Gordon Gillerman, head of NIST's Standards Services, which organized this conference in cooperation with the International Trade Administration (ITA).
NIST and ITA collaborated on this SIT event because testing and approvals for regulated products can affect the cost and timeliness of product shipments and influence global supply chains and investment decisions. Standards cooperation is a key element of the White House E3 Initiative (Expanded Economic Engagement) with ASEAN.
Conference attendees included delegates representing Cambodia, Indonesia, Laos, Malaysia, Myanmar, the Philippines, Thailand and Vietnam. They were joined by more than 60 U.S. officials from business, manufacturing, government and the nonprofit sector. U.S. embassy staff working in the represented nations also attended.
Drawing on the expertise of industry and government leaders, the conference presentations included an overview of U.S. standards and conformity assessment infrastructure and practices. The attendees presented a detailed overview of standards and conformity assessment regimes in their countries and their progress towards regional regulatory cooperation.
Speakers included representatives from leading global testing and standards organizations, industry leaders from the information and communication and electrical components sectors, executives in the U.S. standards community and government standards and intellectual property rights experts.
Participants toured a local big-box store to see firsthand how electronic consumer products incorporate conformity assessment markings indicating product safety and energy efficiency. Attendees also toured Washington Laboratories, a Maryland-based electronics testing laboratory, to observe the importance of standards to product testing.
Hamzaini Hashim, senior assistant director of accreditation at the Department of Standards in Malaysia and chairman of one of the ASEAN Consultative Committee on Standards and Quality (ACCSQ) working groups, appreciated the opportunity to learn more about how standards relate to liability for defective products.
"Thank you for an excellent conference," says Hashim. "It was well organized and the content covered topics of great interest to ASEAN, and especially the ACCSQ. I hope we can build on this event and work together in the future."
See NIST's Global Standards Information website for the latest global standards news, events, resources, key contacts and more.