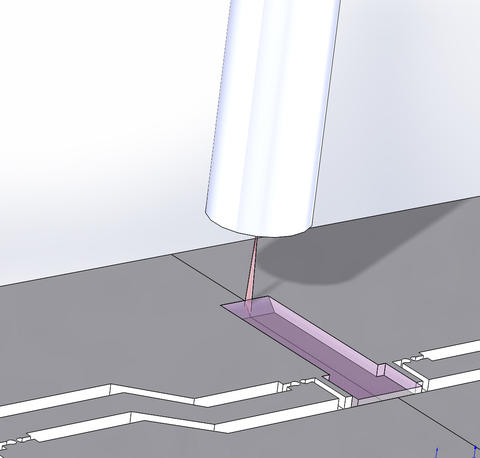 Scientists and engineers at the National Institute of Standards and Technology (NIST) invent tools, technologies and techniques applicable to a spectrum of disciplines, including the biosciences, building and fire research, materials science and manufacturing. This past year, the U.S. Patent and Trademark Office awarded NIST researchers with 20 patents for their original technologies and methods. Fifteen of these patents were developed with collaborators from universities, private companies, government laboratories and other organizations.
The 20 patents are:
Low Cost Multi-channel Data Acquisition Systems, U.S. Patent 8,543,356
Invented by Alan Migdall, Sergey Polyakov* and Sae Woo Nam, this inexpensive and fast pulse characterization platform operates in real time and is capable of capturing single-photon data and analog pulses. The system can also be used to acquire digital multichannel data and all combinations of coincidences between channels, and is suitable for a wide range of measurement and sensing applications.
Silsequioxane Derived Hard, Hydrophilic and Thermally Stable Thin Films and Coatings for Tailorable Protective and Multi-structured Surfaces and Interfaces, U.S. Patent 8,535,761
Richard Laine,* Christopher Soles, David J. Krug, III,* Hyun Wook Ro* and Vera Nikolova Popova-Gueorguieva* have invented a way to coat substrates with silsequioxane. Coatings formed using this process form a hard protective layer that is transparent to ultraviolet light, which lets them be used in nanoimprint lithography.
Charged Particle Source from a Photoionized Cold Atom Beam, U.S. Patent 8,530,853
Adam Steele, Brenton Knuffman and Jabez McClelland invented a system for producing a charged particle beam from a photoionized cold atom beam. The ion beams that scientists can make using this system are up to 10 times more intense than conventional ion sources, promising improvements in microscopy, lithography, nanoscale milling and fabrication, sample preparation for transmission electron microscopy, editing of electronic circuits inside chips, and mapping the makeup of materials.
Tip-mounted Nanowire Light Source Instrumentation, U.S. Patent 8,484,756
Kris Bertness, Norman Sanford, Pavel Kabos and Thomas Wallis designed a cantilevered tip that combines microwave scanning probe microscopy with a nanowire light-emitting diode, both of which function in near-field mode simultaneously. This combination allows nondestructive, contactless testing of material quality for important semiconductor nanostructures such as transistor channels in new microelectronic circuits and individual grains in solar cells. The probe also enables higher throughput and resolution for research on protein unfolding and cell structure.
Nanofluidic Structures with Complex and Arbitrary Three-dimensional Surface Topographies, U.S. Patent 8,435,415
Samuel Stavis,* Elizabeth Strychalski* and Michael Gaitan created a nanofabrication process that can create three-dimensional nanoscale patterns on a surface.
Displacement Sensor with Embedded Coherent Electromagnetic Radiation Interferometer for Micro-scale Proximity Measurements, U.S. Patent 8,437,006
Nicholas Dagalakis and Yong-sik Kim* developed an interferometer sensor that uses a laser to measure the displacement of moving objects with high precision. This invention has proven to be particularly useful for tracking moving parts in microelectromechanical systems (MEMS) devices.
Apparatus and Method for Enhancing the Electromagnetic Signal of a Sample, U.S. Patent 8,436,996
Wen-li Wu and Shuhul Kang* created an apparatus and method that enhances the electromagnetic signal of a sample for ellipsometry or characterization.
Highly Sensitive Oxygen Sensor for Cell Culture, U.S. Patent 8,398,922
Samuel Forry and Peter Thomas* invented a new oxygen sensor that uses a special oxygen-sensing compound to noninvasively and nondestructively measure the rate at which cells in culture are consuming oxygen, which is indicative of their growth and development.
Laser Guided Tip Approach with 3-D Registration to a Surface, U.S. Patent 8,387,158
Thomas Perkins, Gavin King* and Ashley Carter* designed a rapid and repeatable method to guide sharp probes close to a sample with laser-guided precision.
Gradient Elution Electrophoresis and Detectorless Electrophoresis Apparatus, U.S. Patent 8,366,897
David Ross, Samuel Forry and Jason Kralj developed a very simple and easily multiplexed apparatus and method for performing electrophoretic separation and detection of compounds.
System and Method for Automated Sample Introduction, U.S. Patent 8,361,805
Ryan Brennan* and Savelas Rabb invented a microswitch that prevents air from being introduced into an automated spectrometry system. Because air interrupts the automated analysis, the microswitch should help to increase the efficiency and speed of these systems.
Method and Device for Validating or Calibrating a Chemical Detector at a Point of Use, U.S. Patent 8,347,685
Pamela Chu and Jeffrey Anderson developed a low-cost device that enables soldiers to verify that their chemical detectors are working properly while still in the field.
Integrated Optical Element and Faraday Cup, U.S. Patent 8,350,556
Brenton Knuffman, Adam Steele and Jabez McClelland built an integrated optical element and Faraday cup that can measure charged particle beam currents, manipulate light and analyze charged particle beam energy distributions simultaneously. Measuring charged particle beams often requires a metal collector, which blocks the view of the source. A "see-through" version of a charge collector, the invention makes it possible to shine a laser on cold atoms to make a cold-atom focused ion beam.
Magnetic Connectors for Microfluidic Applications, U.S. Patent 8,337,783
Laurie Locascio and Francisco Atencia-Fernandez* engineered a way to use magnetic connectors to rapidly assemble and disassemble microfluidic components.
Atomic Magnetometer and Method of Sensing Magnetic Fields, U.S. Patent 8,334,690
John Kitching, Svenja Knappe,* Jan Preusser* and Vladislav Gerginov* created a miniature laser-pumped magnetometer for measuring weak magnetic fields. The fiber-optically coupled sensor has exceptional sensitivity and could be mass produced. Applications include measurements of magnetic fields produced by the human body and remote detection of vehicles, ships and aircraft.
Indexing Face Templates Using Linear Models, U.S. Patent 8,331,632
Pranab Mohanty,* Sudeep Sarkar,* Rangachar Kasturi* and Jonathan Phillips designed a linear modeling method for a face recognition algorithm based on the match scores produced by the algorithm, as well as an efficient way to index the results.
Approach to Contain Nanowire Arrays Using Nanoparticles, U.S. Patent 8,324,703
Prahalad Parthangal,* Michael Zachariah* and Richard Cavicchi developed a way to connect and electrically contact vertically aligned nanowire arrays in situ using conductive nanoparticles. The assembly approach can be used with any nanowire array that needs a top contact electrode.
Method of Optimizing Combinatorial Circuits, U.S. Patent 8,316,338
Computational and industrial methods for making circuits smaller often yield results that are far from optimal. Rene Peralta and Joan Boyar* invented a new two-step approach to this problem that typically results in the final circuit being much smaller than previous techniques produced.
Distributed Ion Source Acceleration Column, U.S. Patent 8,314,404
Jabez McClelland, Brenton Knuffman, Adam Steele and Jonathan Orloff* built an ion beam system to herd and accelerate ions while improving resolution. The system was developed for cold atom focused ion beam sources, but may also be applicable to other situations where ions need to be moved.
Method for Stabilization of Functional Nanoscale Pores for Device Applications, U.S. Patent 8,294,007
Devanand Shenoy,* Alok Singh,* William Barger* and John Kasianowicz created a membrane made from a compound that has a hydrophilic head group, an aliphatic tail group, and a polymerizable functional group. The membrane can be made robust, and thus, may be useful for DNA sequencing and characterizing other biopolymers when the membrane includes a protein ion channel.
NIST encourages patent protection on inventions when a patent would further the interests of U.S. manufacturing, increase the potential for current or future commercialization or use of the technology, would likely to lead to a license, would have a positive impact on a new field of science or technology and/or the visibility and vitality of NIST, or would further the goals of collaborative agreements.
Although patents are issued in the name of the inventor, the rights to inventions resulting from government work belong to the government. NIST's Technology Partnerships Office negotiates licensing of patented NIST technology.
*Not a member of the NIST staff at the time of the invention.