"If the profession of physics is to thrive, we must make it our goal to achieve a scientifically literate society, a population that understands and values the contributions that science makes to our national well-being," said Katharine Gebbie, former Director of the NIST's Physical Measurement Laboratory (PML) and a co-organizer of last month's Mid-Atlantic Conference for Undergraduate Women in Physics.
"Women are half that population. Only when women see that women are participating fully in the scientific endeavor – as researchers in the laboratory, as scientific leaders, and as policy-makers – will they feel themselves to be equal partners," she said.
That goal is especially important for young women pursuing careers in physics. Some may get the dispiriting sense that physics is a "boys club." Others may receive insufficient support from faculty, their departments, and even their peers. Relatively few feel that they are part of a group with similar problems and concerns. Perhaps this is because women – who earn 60 % of bachelor's degrees in biology, and half in chemistry – account for only about 20 % of bachelor's and PhD degrees in physics.
To address that situation, NIST and the University of Maryland (UMD) co-sponsored the Mid-Atlantic Conference for Undergraduate Women in Physics (MACUWiP) which brought 135 women from 50 colleges and universities to Gaithersburg and College Park, MD from Jan. 17-19. "The long-standing partnership between UMD and NIST provided an inspiring and unique series of activities that made MACUWiP more than a conference," said UMD co-organizer Donna Hammer. "In three days, a community of physicists formed, and it is exciting to think about what is going to happen next."
The annual conference program, one of eight held regionally nationwide under the auspices of the American Physical Society (APS), is designed to encourage "undergraduate women [to] continue in physics by providing them with the opportunity to experience a professional conference, information about graduate school and professions in physics, and access to other women in physics of all ages with whom they can share experiences, advice, and ideas."
The Mid-Atlantic conference – the only one to feature two Nobel laureates in the program – began on Friday, Jan. 17 with a luncheon at NIST's Gaithersburg campus, followed by a presentation by Physics Nobel Prize winner Bill Phillips of PML's Quantum Measurement Division and then a series of laboratory tours highlighting a selection of NIST's state-of-the-art research projects.
On Saturday morning, three concurrent panels (Careers in Physics, Research Opportunities, and Graduate School) featured perspectives from 15 distinguished female scientists including conference co-organizer Angela Hight Walker of PML's Semiconductor and Dimensional Metrology Division.
"I have never felt such excitement about the future," said Hight Walker, who had led a tour of her nanomaterials lab the previous day. "Looking out at an audience of over 100 young, talented, female physics majors made me confident that great things lie ahead."
APS Executive Officer Kate Kirby spoke at a networking lunch, and astrophysicist Debra Fischer of Yale University addressed all eight CUWiP conferences simultaneously by video conference.
Rounding out the day were two workshops (on presentations and policy), a student poster session, and a banquet at which astrophysicist and Physics Nobelist John Mather of NASA was the featured speaker. Mather spent an extra hour posing for photographs as if he were a Hollywood star. To these women, he was even more.
At Sunday's continental breakfast, participants heard a talk by Michelle Thaller of NASA, and then spent the rest of the morning visiting several or all of 13 concurrent sessions titled "Worlds of Physics," in which students talked informally with representatives from various specialties including Atomic, Molecular, and Optical Physics; Condensed Matter/Nanotechnology; High-Energy and Particle Physics; Biophysics and Medical Physics; Nuclear Physics; and more.
"Over 40 physicists energized the conference participants during Worlds of Physics by expanding the idea of what it means to be a physicist," said UMD co-organizer Sonali Shukla.
"Physics can take you in any direction," including biology, engineering, finance, and Wall Street, said Mary Ann Rankin, Senior Vice President and Provost at UMD, "because training in physics teaches you to think in ways, mathematically and analytically, that a lot of other people can't do."
In addition, the students benefited from interacting with each other. "I think we appreciate the solidarity of it all," said Ashley Baker, a senior at the University of North Carolina at Chapel Hill who is applying to graduate schools. "For those who might have been anxious about feeling completely lost, it's great to discover that everybody feels that way at one time or another."
"Physics can be discouraging and difficult and sometimes too overwhelming," said one participant. "But this conference reassured me that I'm on the right path, and that it's not always easy for anyone, female or male." Said another: "I feel much less alone."
Such experiences are essential, said Ellen Williams, UMD physics professor and Chief Scientific Officer at British Petroleum: "One of the most important things in all of the transitions and personal development is maintaining, sustaining, and developing relationships. None of us can get where we're going without relying on these relationships.
"Along the way you're going to make a lot of friends. And the friends that you pick up along the way will become your colleagues to whom you refer for help and advice for the rest of your life"
The undergraduates ranged from those who had committed early to the physical sciences to those only very recently interested. Courtney Slocum and Robyn Smith, the Vice President and President respectively of Drexel University's Women in Physics Society, are solidly in the former category. Slocum, who started reading books such as Leon Lederman's The God Particle in high school and owns shoes with the Periodic Table on them, is "leaning toward materials science, maybe going into industry" and was most intrigued by the tour of NIST's National Center for Neutron Research.
Smith, who intends to go on to graduate school, was already seriously interested in physics by the eighth grade, and eventually skipped her senior prom in order to compete in the Intel International Science and Engineering Fair. She has long been drawn to astrophysics, but was excited to hear scientists talk about "changing channels" as needed. "I like to learn about a lot of alternatives in case I might want to move in a new direction."
On the other side of the early-motivation spectrum are Catherine Nicoloff from Wellesley College and Kielan Wilcomb of Towson University. Nicoloff didn't get started in higher education until she was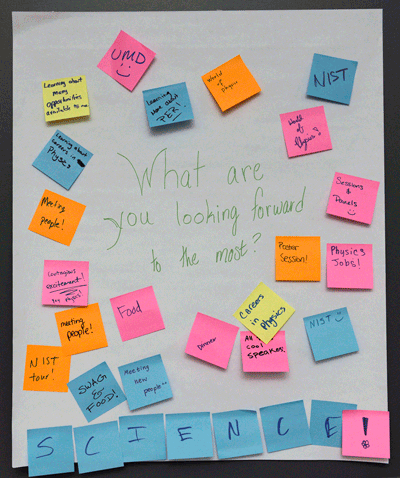 in her 30s, and began at a community college with no particular focus in mind. She happened to take a physics course, and "I was so inspired," she said. "The teacher wanted every single person in the room to understand, and made the subject approachable. Also, I began to see math in a new light. It wasn't so abstract. It was as if physics was the reason for the math." She is now majoring in physics at Wellesley.
Wilcomb started at Towson as a dance major, but was considering a change. While looking at options, she remembered a ninth-grade science course that had captured her interest. With that in mind, she approached the physics department, although it seemed a bit formidable. "But I found myself saying, 'This is a real alternative. The faculty members are real people. They're not going to ignore you. They're going to help.' Now I'm in it for the long term."
Scores of participants expressed similarly positive responses, to the satisfaction of the organizers.
"If the profession of physics is to maintain excellence, it must draw upon the widest possible spectrum of talented individuals from all segments of society," Gebbie said. "We are therefore committed to making available to women the same career choices traditionally open to men. Women have the right, the need, and the talent to compete for these opportunities."