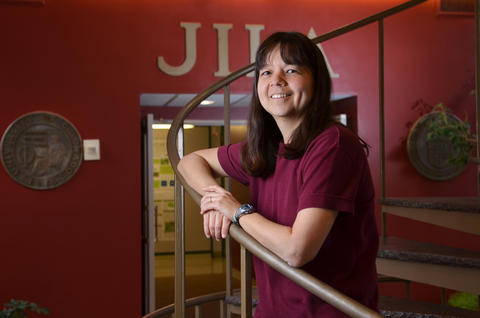 Physicist Deborah Jin of the National Institute of Standards and Technology (NIST) has been named the recipient of the 2014 Comstock Prize in Physics.
The National Academy of Sciences awards the prize every five years to "recognize a North American resident for a recent innovative discovery or investigation in electricity, magnetism, or radiant energy."
Jin works at JILA, a joint institute of NIST and the University of Colorado Boulder. She is cited for "demonstrating quantum degeneracy and the formation of a molecular Bose-Einstein condensate in ultra-cold fermionic atomic gases, and for pioneering work in polar molecular quantum chemistry.
The Comstock Prize includes a $25,000 award to the recipient plus a $25,000 award to a non-profit research institution of the recipient's choice. The prize will be presented at the Academy's annual meeting in Washington, D.C., on April 27, 2014.
The National Academy of Sciences is one of the world's leading organizations for distinguished scientists. Jin was elected to the Academy in 2005 as one of the youngest women scientists so honored. (All North American scientists are eligible for the Comstock Prize—Academy membership is not a requirement for selection.) Jin has numerous other honors, including the 2008 Benjamin Franklin Medal in Physics, a 2003 John D. and Catherine T. MacArthur Fellowship (commonly called a "genius grant"), and the 2013 L'Oreal-UNESCO For Women in Science Award for North America.
Read the Academy's announcement and more about the Comstock Prize at http://www.nasonline.org/about-nas/awards/comstock-prize-in-physics.html.
For background on Jin's research, see the 2004 NIST press release, "NIST/University of Colorado Scientists Create New Form of Matter: A Fermionic Condensate," and the 2010 NIST press release, "Seeing the Quantum in Chemistry: JILA Scientists Control Chemical Reactions of Ultracold Molecules."