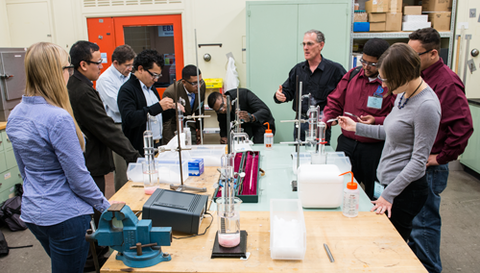 They spanned 140 degrees of latitude  – from Canada to Chile – and varied widely in age and experience. But their goal was the same: To improve their metrological capabilities for the benefit of their home countries and the Western Hemisphere.
For five extremely full days during the last week of October, 53 students from 29 countries attended the metrology school conducted by NIST in Gaithersburg, MD for the Sistema Interamericano de Metrologia (SIM), a consortium of national metrology institutes (NMIs) from all 34 member nations of the Organization of American States.
SIM is one of five current regional metrology organizations recognized within the framework of the International Committee on Weights and Measures Mutual Recognition Arrangement (CIPM MRA), whose mission is to promote and support an integrated measurement infrastructure in the Americas.
"NIST is extremely pleased and proud to be able to host this important event," said PML Deputy Director James Olthoff. "The opportunity to interact with such an impressive group of international metrologists, while also being able to utilize the extensive capabilities of the NIST calibration laboratories, will be invaluable to these young metrologists as they advance in their careers."
The students, typically scientists and engineers who have recently entered service in an NMI or nationally designated institute (DI), participated in a program featuring morning lectures (with simultaneous English-Spanish translation) on fundamental metrological topics followed by afternoon hands-on training in NIST's laboratories, many provided by PML researchers. Each day offered opportunities for introductions and networking among the students and experts in attendance. The program concluded with a final exam that confirmed the progress made by the students.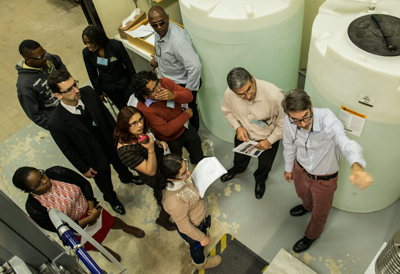 "I think this was an excellent opportunity for newcomers to metrology to gain a wide perspective on work in the field, and to be in touch with some of the worldwide scientific leaders as well as the state of the art in several fields," said Edgar Mendez of Mexico's Centro Nacional De Metrología, a lecturer at the SIM school.
"Besides the technical approach, and in my opinion more important than that, is the chance to be in touch with people from other countries that are struggling (or 'having fun') with similar kinds of experimental problems. The friendly environment enhances confidence to ask for assistance or advice."
Course topics covered measurement of: mass; temperature; pressure; dimension; electrical properties; chemical and biological properties; volume and flow; density, force, and torque; time and frequency; and various aspects of light. In addition, instruction was provided on legal metrology, statistics and uncertainty, and quality.
"The significance of this event is that it allows us to retain our new, most outstanding metrologists, assuring a match between their motivation and the metrology that can be done in our NMIs or DIs," said another lecturer, Francisco Garcia of Chile's Centro de Estudios de Medición y Certificación de Calidad. "But resources many times are limited within a large fraction of SIM NMIs. For this, the NIST SIM Metrology School is a very effective tool that provides students a wide perspective about what metrology is – a vision that cannot be shown in most of our institutes, no matter the scope of the calibration and measurement capability (CMC).
"At the end of the school, attendees realize that their metrology jobs are transcendently important for the society and linked to high-level experiments and developments in science and engineering, as well as multidisciplinary. They will be expected to link, develop, and apply a lot of technical knowledge. Many times multidisciplinary new fields are a rich source of technical developments or scientific discoveries."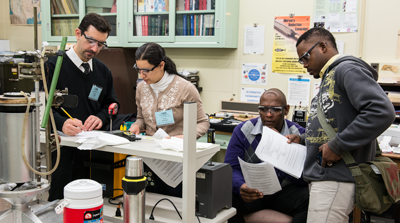 Participation in the school often brings international advantages as well. "For Panama," says Raul Solis of that country's NMI, "this event means a chance to demonstrate that we are ready and willing to help build relationships with all SIM members and move forward to consolidate metrology in the region."
In general, says Garcia of Chile, "while it is true that the recognition process of CMCs is based on defined procedures, they have to be applied by people who are prepared to interact within an international environment that requires a lot of willingness to listen and understand other parties' arguments while firmly sustaining your own arguments. 
"The recognition process of CMCs is not mechanical. It involves a lot of interactions by e-mails, face to face meetings, etc. Thus it has a relevant social aspect, especially when it is necessary to discuss new situations that arise and are not covered by current procedures. The SIM school helps to create a safe environment for future thoughtful discussions among the future laboratory or institute heads, by allowing them to meet each other at the early beginning of their careers within the confident environment of the school.
"The recognition process of any CMC requires the active participation of the whole SIM. It is not a work that a single NMI can do alone. NMIs or DIs need to interact through comparison activities, peer reviews, and calibration services that require a good level of commitment and diligence. The SIM school helps reinforce that commitment and diligence through the relations among new metrologists."