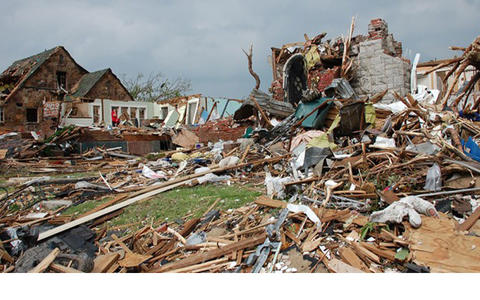 JOPLIN, Mo.—Nationally accepted standards for building design and construction, public shelters and emergency communications can significantly reduce deaths and the steep economic costs of property damage caused by tornadoes. That is the key conclusion of a two-year technical investigation by the U.S. Commerce Department's National Institute of Standards and Technology (NIST) into the impacts of the May 22, 2011, tornado that struck Joplin, Mo.
The recommendations are featured in a draft report issued for public comment today and announced at a press briefing held at Missouri Southern State University in Joplin. The NIST study is the first to scientifically assess the impact of a tornado in four major categories: tornado characteristics, building performance, human behavior and emergency communication—and the impact of each on life-safety, the ability to protect people from injury or death. It also is the first to recommend that standards and model codes be developed and adopted for designing buildings to better resist tornadoes.
Following the public comment period, NIST will issue a final report and then work with the appropriate code development organizations to use the study's recommendations to improve model building codes and lay the foundation for nationally accepted standards. NIST also will work with organizations representing state and local governments—including building officials—to encourage them to seriously consider implementing its recommendations.
"The overarching conclusion of our two-year study is that death and destruction from tornadoes can be reduced," said Eric Letvin, director of disaster and failure studies for NIST. "Based on a significant body of research and observations from such events, our scientific understanding of tornadoes and their effects has matured substantially. It's time to begin developing and implementing standards and codes that directly address tornado hazards."
For the study, NIST scientists (to the extent possible) reconstructed the characteristics of the tornado and its impact on the built environment (including designated safe areas and lifelines such as power and water transmission systems), the emergency communications prior to and during the event, and the responses and outcomes of people who found themselves in the tornado's path.
The massive tornado in Joplin was rated by the National Oceanic and Atmospheric Administration (NOAA)'s National Weather Service (NWS) as category EF 5, the most powerful on the Enhanced Fujita scale. The multiple-vortex storm impacted an area 35 kilometers (22 miles) long, destroyed some 8,000 structures in its path and killed 161 people. This makes it the single deadliest tornado in the United States in the 63 years that official records have been kept. 
In the majority of cases, the study found that regardless of construction type, buildings did not adequately protect occupants and that Joplin residents had limited access to underground or tornado-resistant shelters. The majority of deaths (135 or 83.8 percent) were caused by impacts associated with building failure. Virtually all of the buildings in which people died were affected by wind speeds equivalent to an EF-3 tornado or higher on the Enhanced Fujita scale.
Multiple factors contributed to a delayed or incomplete response by people in the tornado's path, including lack of awareness of the tornado's approach, confusion about or distrust of the emergency messages prior to the tornado's arrival, and an inability to perceive risk due to the conflicting information. While outdoor siren systems prompted many residents to seek further information about whether or not there was a true hazard, people were often confused by multiple information sources.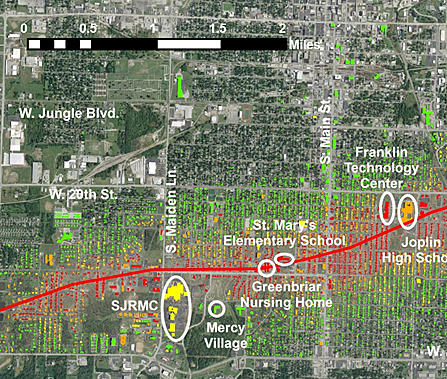 "Disasters such as the Joplin tornado are devastating, but out of tragedy can come important opportunities to understand, evaluate and learn from the performance of structures, emergency communications and human behavior during catastrophic events," said Letvin.
Based on findings from the investigation, NIST developed 16 recommendations for improving how buildings and shelters are designed, constructed and maintained in tornado-prone regions; and for improving the emergency communications that warn of imminent threat from tornadoes.
The key recommendation proposed in the report is "the development and adoption of nationally accepted performance-based standards for the tornado-resistant design of buildings and infrastructure to ensure the resiliency of communities to tornado hazards." This includes a call for designing and constructing essential buildings—such as hospitals and emergency operations centers—and infrastructure to remain operational in the event of a tornado. Additionally, the report's authors recommend the development of methods that will ensure all building components and systems meet the proposed performance objectives.
The report also recommends uniform national guidelines be developed that enable communities to create the safest and most effective public sheltering strategies. Shelters, the report states, should be installed in new and existing multi-family residential and commercial buildings, schools and in buildings with assembly occupancies (such as theaters and places of worship) located in tornado hazard areas.
Also needed are nationally accepted codes and standards, as well as uniform guidance for clear, consistent and accurate emergency communications, according to the report. This will require the collaboration of emergency managers, the NWS and the media to develop and execute a plan to ensure that appropriate and timely warning information improves the situational awareness of the people who would be affected by an event, including emergency responders.
The NIST report includes a number of recommendations for future research and development of technologies and strategies to advance tornado wind measurements, strengthen emergency communications, increase warning time, derive more accurate tornado hazard maps and significantly improve public response during tornado events.
NIST welcomes comments on the draft report and recommendations, which must be received by 5 p.m. Eastern Time on Monday, Jan. 6, 2014. Comments may be submitted via email to disaster [at] nist.gov (disaster[at]nist[dot]gov) or mailed to NIST Technical Investigation Joplin, 100 Bureau Dr., Stop 8611, Gaithersburg, Md. 20899-8611.
The NIST investigation of the Joplin tornado was conducted under the provisions of the National Construction Safety Team (NCST) Act. The act gives NIST the responsibility for conducting fact-finding investigations of building failures that resulted in substantial loss of life or that posed significant potential for substantial loss of life.
The Joplin tornado investigation builds on a partnership between the agency's Disaster and Failure Studies Program and the interagency National Windstorm Impact Reduction Program. For more information on the Joplin investigation and NIST's 40-plus years of experience studying structural failures, visit this page.  
As a nonregulatory agency of the U.S. Department of Commerce, NIST promotes U.S. innovation and industrial competitiveness by advancing measurement science, standards and technology in ways that enhance economic security and improve our quality of life.
Related materials: