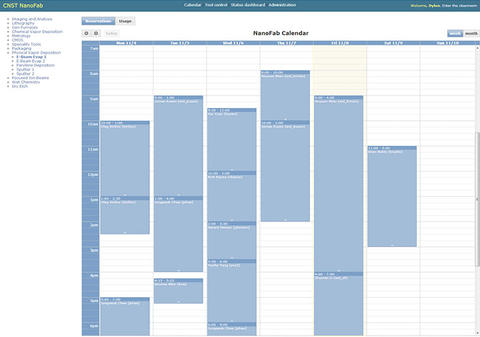 The Center for Nanoscale Science and Technology (CNST), NIST's nanotechnology user facility, has deployed a new laboratory equipment management system which it developed from the ground up.  The web-based program, known as the NanoFab Equipment Management & Operations (NEMO) system, allows onsite NanoFab users to make tool reservations, controls access to tools in the NanoFab, and streamlines logistics and communication.  
NEMO provides onsite users an experience that is simple, intuitive, and quick.  Its click-and-drag web interface gives users the ability to easily create and modify tool reservations.  To ensure that tools are ready when users arrive, the program automatically sends configuration information to the appropriate NanoFab staff members for tools that need to be configured prior to use.  Users can easily view who is in the NanoFab and which tools are available.  
The program is a major update to the Center's NanoFab computing infrastructure, and replaces the OpenCoral laboratory management program.  
The CNST plans to continuously improve NEMO in order to provide additional features and services to NanoFab users.  According to CNST IT specialist Dylan Klomparens, who designed the system, in addition to equipment reservations, NanoFab users will soon have the ability to reserve and use CAD software licensed by the CNST at cost-effective hourly rates.  
To provide us with feedback about NEMO or learn more about it, please contact the nanofabuseroffice [at] nist.gov (NanoFab User Office).