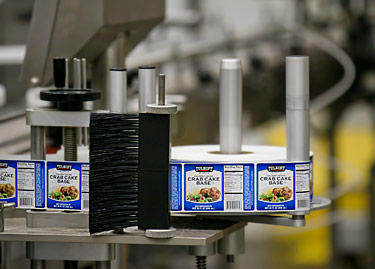 The Hollings Manufacturing Extension Partnership (MEP) program, part of the U.S. Department of Commerce's National Institute of Standards and Technology (NIST), has awarded a cooperative agreement to Maryland MEP, Inc. (MD MEP), to run a center that will help the state's small and medium-sized manufacturers increase profits and create and retain American jobs.
MEP is a national network of more than 1,300 technical experts who work with manufacturing businesses to help solve their challenges and identify opportunities for growth. MEP offers local manufacturers a wealth of resources and a variety of services, from innovation strategies to process improvements to green manufacturing. MEP also works with state and federal partners on programs that help manufacturers find new customers, expand into new markets and create new products.
"The MEP program is an example of a successful public-private partnership that works to help America stay competitive and innovative in the 21st century," said U.S. Secretary of Commerce Penny Pritzker. "Not only does the MEP program provide a return on investment to taxpayers, it brings real financial benefits to the businesses that use its services. We look forward to working with the new Maryland MEP center as it helps manufacturers create jobs and strengthen the state's economy."
The award provides $650,000 to MD MEP, which is half of the center's annual operating budget. MEP centers are public-private partnerships that receive a portion of their annual budgets from NIST MEP, nonfederal agencies or organizations, and industry through fees for service. Each year the agreement is renewed will bring an increase in the cost-shares from other sources. Centers that operate for five or more years receive one-third of their annual funding from NIST.
"This public-private partnership for Maryland manufacturers is about jobs today and jobs tomorrow," said Senator Barbara Mikulski, chairwoman of the Senate Appropriations Committee that funds NIST. "The old saying goes, 'a country that doesn't make something, can't make something of itself.' Maryland manufacturing is getting our economy rolling, keeping thousands of workers on the job. Through critical assistance, these small and medium-sized businesses are able to sell American products around the world. I'm proud to support the MEP program and stand firm in my commitment to manufacturing jobs, from Hagerstown to Stevensville, from Baltimore to Easton."
Maryland has about 3,200 manufacturers, 99 percent of which employ no more than 500 people. More than one-third of these enterprises have just one to four employees. The state's manufacturing industries are diverse, with computer and electronic product manufacturing leading the sector since 2007, and chemical manufacturing and food and beverage and tobacco product manufacturing being major industries as well. Maryland also ranks second in the nation for federal R&D investments and boasts a strong network of research centers and colleges, which provide significant opportunity for technology transfer and innovation in the state.
"Maryland has a long and proud history of manufacturing. This new partnership links that history with NIST, leveraging its expertise to build upon and strengthen Maryland manufacturers," said Maryland Secretary of Business and Economic Development Dominick Murray.
For every one dollar of federal investment, MEP generates nearly $20 in new sales growth and $20 in new client investment. This translates into $2.5 billion in new sales annually. For every $2,100 of federal investment, MEP creates or retains one manufacturing job. NIST MEP is also a key partner in Manufacturing Day, which will be held Oct. 4, 2013. More than 300 manufacturers, schools and professional societies will host individual plant tours, manufacturing community events and educational fairs to showcase the value of manufacturing on today's economy.
MD MEP is located in Columbia, Md. To learn more about the services it can offer manufacturers, and its partner institutions, visit http://www.mdmep.org. Find out more about NIST's Hollings Manufacturing Extension Partnership. Information on Manufacturing Day at www.mfgday.com/.