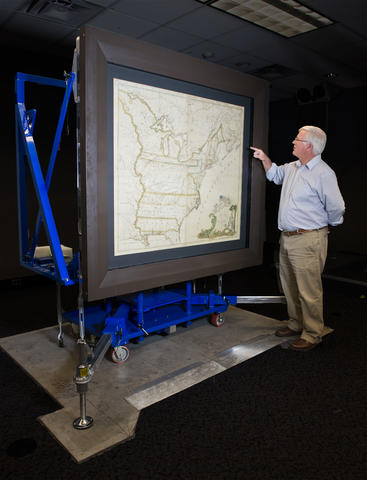 The original Declaration of Independence on display at the National Archives reaches its 237th anniversary this year protected by NIST science and engineering. Indeed, all the sealed, argon-filled encasements containing the nation's founding documents, including the Constitution and the Bill of Rights, were fabricated and tested by NIST researchers and technicians.
A NIST team also provided state-of-the-art cases for the 13th-century Magna Carta now on display at the Archives, as well as the large (116 inches by 73 inches) Waldseemüller map of 1507 − the first to use the word "America" − which required what the Library of Congress calls "the largest encasement ever built for a single paper document."
These high-tech cases are widely regarded as the best of their kind in the world. "Right now, there are approximately ten of them," says Mark Luce, Director of NIST's Fabrication Technology Group. "I strongly believe that at the rate these encasements are being developed, there will be many more needed over the next ten years. There are many documents out there that are immensely valuable or even priceless, and they require the best preservation technology available.
"But NIST can't become 'Encasements R Us'. So there's a real need to standardize the general design as well as the testing and monitoring procedures. That would allow institutions to obtain their own encasements and monitor their individual performance over time. We want the preservation community to be able to have a common set of standards to develop its own capabilities."
Luce's team is taking the first steps in that direction by partnering with NIST's Sensor Science Division to take on another very challenging project: making an encasement and sensor suite for an original copy of the Bill of Rights that is owned by the New York Public Library (NYPL).* Plans call for this copy to be displayed in various cities on a rotating basis. That raises unprecedented issues for the designer and fabricator, because the encasement will have to maintain its integrity during periodic travel to different locations, and do so under highly variable weather conditions.
"Typically we have designed each encasement to stay in a specific location where historical data can be used to define the weather variability," says encasement team engineer Jay Brandenburg, "but now we have a new set of considerations with an encasement designed to travel to various locales. Moreover, what we design today must also withstand changes in our world environment.
"For example, in earlier work, we used the barometric pressure levels of Hurricane Isabel in 2004 to define low-level benchmarks. But then along came Hurricane Sandy last year, with a much lower pressure in the Washington area than previous storms. We have had to adjust our thinking to new pressure expectations."
Making the encasement, which is currently being designed, is only part of the job of preservation. Institutions also need to constantly monitor the enclosure's inert gas content (argon), the relative humidity inside the encasement, and any temperature and pressure changes caused by fluctuations in the weather. At present, there are no standards for the sensor systems and data-collection methods required for these types of encasements.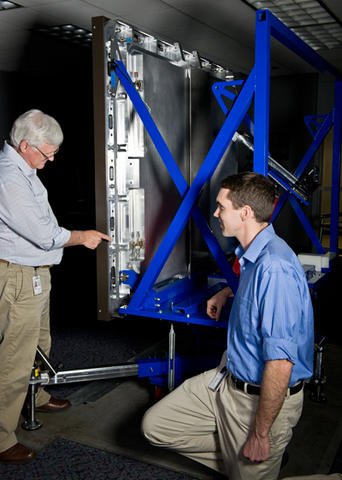 "That's where we hope to make a very substantial contribution to this effort," says Gregory Strouse, leader of the Thermodynamic Metrology Group in the Physical Measurement Laboratory's Sensor Science Division, "and we are excited by the prospect of introducing metrology to the field of document preservation.
"In addition, Mark has emphasized that many institutions which might want the encasements may not have staff with specialized technical training in the required sensors and telemetry technologies to support this preservation solution. Ideally, they would benefit from a turnkey system of some sort that was traceable to NIST and could be displayed on a laptop computer.

"Our group already has a great deal of experience in devising automated sensor and monitoring systems for the properties of interest. It seems likely that we can fill the preservationists' needs."
They may find out soon. The encasement for the NYPL's copy of the Bill of Rights is scheduled to go on display at Philadelphia's National Constitution Center in the fall of 2014.
---
* Copies of 12 proposed amendments to the Constitution passed by Congress in 1789 − of which the first 10 are collectively known as the Bill of Rights − were sent to the states for ratification. Many of those documents are extant.