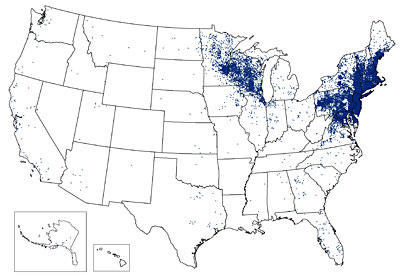 Getting Lyme disease may be easy—the tick-transmitted illness is the most common vector-borne disease in the United States—but accurately identifying it during the early stages of infection is not. The current diagnostic test frequently yields false negatives, resulting in many patients mistakenly going untreated until more severe and debilitating symptoms occur. Additionally, there currently is no way to measure the effectiveness of treatment for Lyme disease or to diagnose Post-Treatment Lyme Disease Syndrome (PTLDS, commonly called "chronic Lyme disease," which occurs when Lyme disease symptoms persist even after treatment).
To help address the problem, the National Institute of Standards and Technology (NIST) is hosting a webcasted workshop on June 6, 2013, titled "Measurement—The Foundation for the Effective Diagnosis and Management of Lyme Disease." There is no charge to view the webcast.
Focusing on the challenges of measurement in Lyme disease, the goal of the workshop is to accelerate the development of sensitive and specific tests for both early-stage Lyme disease and PTLDS. Among the areas for discussion will be:
Defining the difficulties faced in the clinical and laboratory diagnosis of Lyme disease;
Developing biomarkers to detect the presence of Borrelia burgdorferi (the bacteria that causes Lyme disease) and the immune response to the bacteria in an infected host;
Advancing the accuracy and reliability of laboratory methods and tools such as immunoassays, mass spectrometry, microarrays, sequencing, transcriptomics, metabolomics, culturing and imaging;
Applying nanotechnology to address measurement issues; and
Planning for a Lyme disease sample repository that could facilitate comparative and collaborative studies for detection, diagnosis and management of the disease.
The workshop agenda, a list of speakers and details on how to access the webcast on the day of the event are available online. [link removed because it is no longer active.]