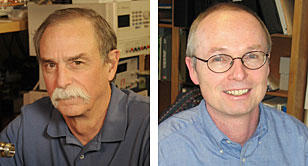 Two National Institute of Standards and Technology (NIST) scientists, David Wineland and David Nesbitt, have been elected members of the American Academy of Arts and Sciences.
Wineland, a NIST fellow and group leader, shared the 2012 Nobel Prize in Physics. Wineland leads research with trapped ions (electrically charged atoms) for atomic clocks and experimental quantum computing. Nesbitt is a fellow of both NIST and JILA, a joint institute of NIST and the University of Colorado Boulder. Nesbitt leads research in chemical physics and biochemistry at JILA, focusing on topics such as quantum dots and RNA folding.
The academy is one of the nation's most prestigious honorary societies and a leading center for independent policy research. Since its founding in 1780, the academy has elected leading "thinkers and doers" from each generation, including George Washington and Benjamin Franklin in the eighteenth century, Daniel Webster and Ralph Waldo Emerson in the nineteenth, and Albert Einstein and Winston Churchill in the twentieth.
The new members will be inducted at a ceremony on October 12, 2013, at the Academy's headquarters in Cambridge, Mass.
For more, see https://www.amacad.org/content/members/members.aspx.