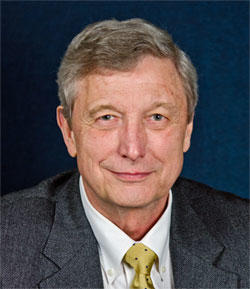 Dr. Joseph L. Dehmer, a 40-year veteran of federal science research and administration, has been named Director of the Physical Measurement Laboratory (PML) of the National Institute of Standards and Technology (NIST). Dehmer is a physicist who served most recently as director of the Division of Physics and Senior Advisor for Strategic Planning at the National Science Foundation (NSF). He takes office on April 22, 2013.
Dehmer is a fellow of the American Physical Society and the American Association for the Advancement of Science; has chaired, co-chaired or been a member of more than 20 committees of NSF, the National Research Council, and the U.S. Department of Energy; has served on the editorial boards of five research journals; and is presently co-chair of the National Science and Technology Council's Working Group on Physics of the Universe.
Dehmer received his Ph.D. from the University of Chicago—where his adviser was the celebrated physicist Ugo Fano, the first theoretical physicist hired on staff by the National Bureau of Standards. He was a researcher at Argonne National Laboratory before spending two years at NIST as the head of the Optical Sensor Group in what was then the Physics Laboratory. Thereafter, Dehmer went to NSF, where he served for 14 years as Director of the Division of Physics.
"I have had a long and constructive relationship with NIST, as a collaborator, consultant and group leader at various times," Dehmer says. "While at the National Science Foundation, I was proud to support JILA and the creation of the Joint Quantum Institute, both in collaboration with NIST.
"NIST is a unique and essential component of the national innovation ecosystem, and it is an international leader across the full spectrum of metrology, from the keeper of standards to extending the frontiers of measurement science.
"I have always had a great respect and affection for the NIST community and its accomplishments, and I am very excited about the opportunity to return. While getting reacquainted with today's NIST, with its four major Laboratories, world-class facilities, and diverse array of programs, I have been particularly impressed by the technical capabilities, creative talent and range of expertise within PML. I can't think of a more interesting place to work. I look forward to contributing to NIST's mission and to the abundant benefits it brings to the industry, commerce, and the American people."
Dehmer succeeds Katharine Gebbie, who directed the PML and its predecessor, the NIST Physics Laboratory, since the latter's inception in 1991. Gebbie is now the Senior Advisor for Interdisciplinary Technologies in the office of Willie May, NIST's Associate Director for Laboratory Programs.