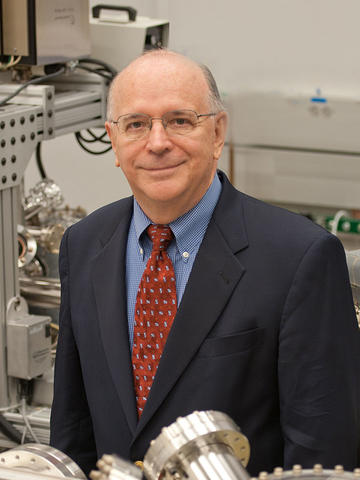 Robert Celotta, Director of the NIST Center for Nanoscale Science and Technology (CNST), was interviewed in the 2013 edition of International Innovation - Nano and Materials Technology,* an annual publication featuring articles from the world's leading nano and materials technology research groups, private companies, NGO's, and think tanks. 
In the article, he describes the CNST's unique mission as a national user facility that provides easy access to state-of-the-art, commercial nanoscale fabrication and measurement tools, and that performs research to advance nanotechnology measurement and fabrication methods beyond the state-of-the-art. 
Celotta notes that the CNST's NanoFab, provides à la carte access to a "comprehensive collection of major tools for nanofabrication and measurement."  Researchers can use major, well-maintained tools, receive training if needed, and benefit from professionally-developed and maintained fabrication processes.  Because it provides rapid access, professional assistance, and allows users to maintain their intellectual property rights, the NanoFab is particularly popular with industry, ranging from start-ups to Fortune 500 corporations.  The NanoFab has approximately 500 active projects per year across a broad range of topics.
The CNST's NanoLab develops measurement and fabrication solutions that go beyond the current commercial state of the art and makes these solutions available to users via collaboration.  This effort is also driven by user needs, but is longer term and more strategic.  Because nanotechnology is evolving very rapidly, research is organized in a way that ensures maximum agility, with a core cadre of multidisciplinary project leaders and a large cohort of postdoctoral researchers.  Currently, most of the measurement and fabrication research efforts are focused in three technical areas – future electronics, nanomanufacturing and nanofabrication, and energy.
Celotta notes that the CNST approach "has created an intellectually stimulating, highly productive, and very popular environment for nanotechnology research."  In 2012, "over 1,500 research participants directly benefited from CNST's research, either through NanoFab projects or collaboration with our research project leaders."
 
* Link removed. No longer active.