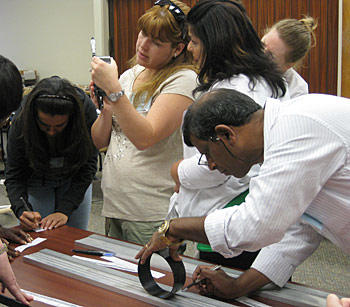 The National Institute of Standards and Technology (NIST) is accepting applications for the 2013 NIST Summer Institute for Middle School Science Teachers and the Research Experience for Teachers programs. Both programs offer educators the chance to interact with and learn from top scientists and engineers, in classroom and laboratory settings.
The Summer Institute is a two-week workshop at NIST's Gaithersburg, Md., campus combining lectures, tours and hands-on activities that educators can recreate in their own classrooms. Topics include forensics, materials science, physics and biology, and teachers learn how to incorporate activities into their own curricula.
"We want to give teachers an increased understanding of the subjects they teach and how scientific research is performed," says Mary Satterfield, director of the Summer Institute. "They leave here with materials and resources, a network of researchers and other teachers to connect with, and ideally, an increased enthusiasm for science."
Public school districts or accredited private educational institutes in the United States and/or its territories that offer general science classes at grade levels 6-8 are eligible to nominate teachers to participate. Individual teachers do not apply directly, but through their schools or school districts. NIST intends to support approximately 22 teachers, who will receive a stipend of $2,000 plus an additional amount up to $2,000 for housing and travel for those living more than 80.5 kilometers (50 miles) from NIST. The application deadline is March 20, 2013.
Teachers who have completed the Summer Institute are eligible for the Research Experience for Teachers program, which consists of 6 weeks of research at NIST's Gaithersburg campus. In 2013, three qualified science teachers will have the chance to further their understanding of how scientific research is performed while working side by side with NIST research scientists and engineers. Their projects will combine research with direct applications tailored to developing, maintaining, advancing and enabling the measurement system for the nation. The projects are chosen to be highly relevant to the teachers' interests and the NIST mission.
To read the complete Federal Funding Opportunity and to download an application for the Summer Institute, and for the Research Experience for Teachers, visit Grants.gov.
A video about the Summer Institute is available at http://youtu.be/Ciov-EVxgnw.