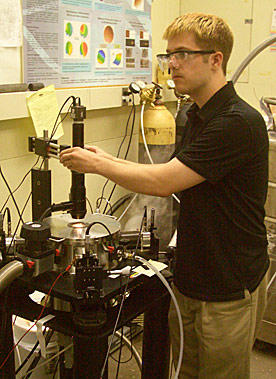 The National Institute of Standards and Technology (NIST) is accepting applications for its Summer Undergraduate Research Fellowship (SURF) program at its Gaithersburg, Md., and Boulder, Colo., campuses.
The SURF program encourages the pursuit of graduate degrees in science and engineering by exposing undergraduate students to cutting-edge research and providing them the opportunity to work with internationally known NIST scientists. Applications are submitted on behalf of qualified students by their schools. Colleges and universities in the United States and its territories with degree-granting programs in nanoscale science, engineering, computer science, mathematics, chemistry, biology, materials science, neutron research, and/or physics are eligible to nominate students.
NIST expects to fund stipends for approximately 90 students in Gaithersburg and about 18 students in Boulder, working in laboratories that focus on information technology, physical measurement, material measurement, nanoscale science, engineering or neutron research.
In 2012, research projects spanned a variety of scientific disciplines and included measurements of vitamin A in northern fur seals, developing new thermometers based on ultrasonic transducers, creating environmentally friendly flame retardant coatings, controlling greenhouse gases, characterizing nanoparticles, and developing gesture recognition software for a 3D visualization lab, among many others.
Visit Grants.gov (link removed; no longer active) to see the Gaithersburg program announcement and to download information on eligibility, limits on submissions, and the application.
For the Boulder program, visit Grants.gov (link removed; no longer active).
Applications are due Feb. 15, 2013 (by 11:59 p.m. Eastern Time for electronic applications; 5 p.m. Eastern Time for paper Gaithersburg applications, and 5 p.m. Mountain Time for paper Boulder applications), and must be submitted by eligible colleges and universities, not by individual students.
Get more information about the Gaithersburg program and the Boulder program.