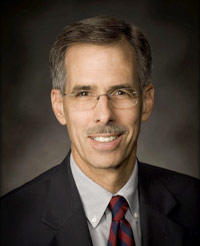 John J. Tracy, chief technology officer of The Boeing Company and senior vice president of Engineering, Operations and Technology, has joined the National Institute of Standards and Technology's Visiting Committee on Advanced Technology (VCAT). Under Secretary of Commerce for Standards and Technology and NIST Director Patrick Gallagher selected Tracy to serve a three-year term on the agency's primary private-sector policy advisory group.
In addition to serving on Boeing's Executive Council, Tracy oversees the development and implementation of its enterprise technology investment strategy and provides strategic direction to several functions and business organizations comprising more than 100,000 employees.
Previously Tracy was vice president of Engineering and Mission Assurance for Boeing Integrated Defense Systems. Prior to this assignment, Tracy was vice president of Structural Technologies, Prototyping, and Quality for the Boeing Phantom Works advanced R&D unit.
Tracy has also served as the general manager of Engineering for Boeing Military Aircraft and Missiles, director of the Space and Communications Advanced Engineering organization, director of Operations Management, and director of Structures Technology for Southern California Phantom Works. He joined McDonnell Douglas as a stress analyst in Huntington Beach, Calif., in 1981, after serving as a high school science teacher in Los Angeles, Calif.
Tracy is a Fellow of the American Society of Mechanical Engineers (ASME) and the past chair of the ASME 6,000-member Aerospace Division. He also is a F\fellow of the American Institute of Aeronautics and Astronautics (AIAA) and the Royal Aeronautical Society, and has served as an editorial board member for the AIAA Journal, the Journal of Thin-Walled Structures, and the Journal of Computer Modeling and Simulation in Engineering. He currently serves on the Board of Trustees for the Illinois Institute of Technology and on the engineering advisory board for several leading universities.
Tracy received a bachelor's degree in physics in 1976 from California State University-Dominguez Hills, followed by a master's degree in physics in 1981 from California State University-Los Angeles and a Ph.D. in engineering from the University of California-Irvine in 1987. He has authored more than 30 publications in the areas of composite structural mechanics, launch vehicle structures, smart structures, and aging aircraft.
The VCAT was established by Congress in 1988 to review and make recommendations on NIST's policies, organization, budget and programs. The next VCAT meeting will be Feb. 6-7, 2013, in Gaithersburg, Md. For more information on VCAT and the meeting, visit www.nist.gov/director/vcat/.