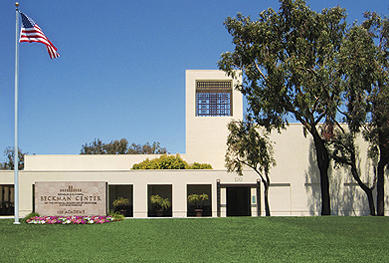 The Advanced Manufacturing National Program Office (AMNPO), in partnership with state and national organizations, is inviting interested parties to the third in a series of regional workshops to introduce and encourage public discussion of a planned National Network for Manufacturing Innovation (NNMI). "Designing for Impact III: Workshop on Building the National Network for Manufacturing Innovation" will be held on September 27, 2012, at the Arnold and Mabel Beckman Center of the National Academies of Sciences and Engineering at the University of California (UC) Irvine.
Local hosts and co-organizers for this workshop event include the National Academy of Engineering (NAE), the National Academies' Government-University-Industry Research Roundtable (GUIRR) and University-Industry Demonstration Partnership (UIDP), NASA's Jet Propulsion Laboratory (JPL), and UC Irvine.
The AMNPO was established to coordinate federal resources and programs across agencies to enhance technology transfer to U.S. manufacturers. The office is hosted by the National Institute of Standards and Technology (NIST) in partnership with the Department of Defense, the Department of Education, the Department of Energy, NASA and the National Science Foundation.
The NNMI is a planned network of up to 15 regional "Institutes for Manufacturing Innovation" (IMI) proposed in the President's FY 2013 budget. Operated as public-private collaborations, the institutes would address current gaps in manufacturing innovation by connecting research advances at academic institutions and federal laboratories with the nation's manufacturing community. Each institute will serve as a regional hub of manufacturing excellence, with programs tailored to regional needs.
Workshop participants will learn about the principles and concepts behind the NNMI and participate in interactive sessions designed to solicit ideas on how to best structure the network and the institutes. Workshop sessions will focus on:
technologies with broad impact,
institute structure and governance,
strategies for sustainable institute operations, and
workforce education and development.
Additional information on times, fees, the venue and local accommodations is available online (link removed because it is no longer active) and in today's notice in the Federal Register at www.gpo.gov/fdsys/pkg/FR-2012-08-21/pdf/2012-20535.pdf. On-line registration for the workshop will close at 11:59 p.m. Pacific time on Tuesday, Sept. 18, 2012. To register for this event, go to www.calit2.uci.edu/calit2-events/EventOrderRegistration.aspx?eid=552.
For additional information—
On previous Designing for Impact workshop reports:

Rensselaer Polytechnic Institute, April 25, 2012
Cuyahoga Community College, July 9, 2012

On the May 4, 2012, Request for Information on the NNMI (link removed because it is no longer active)