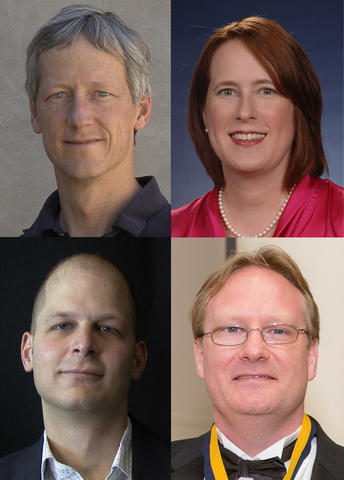 Four National Institute of Standards and Technology (NIST) employees were among the 12 recipients of the annual Arthur S. Flemming Award that recognizes outstanding service to the federal government by individuals with three to 15 years of federal service.
Craig Brown, a research chemist in the NIST Center for Neutron Research, is recognized "for pioneering contributions to the understanding of new materials suited for hydrogen energy storage in next-generation clean automobiles. His work and findings address one of the largest obstacles in the road to the hydrogen economy—the development of safe, practical storage systems that operate at room temperature."
Elizabeth Gentry, Metric Program coordinator in the NIST Physical Measurement Laboratory (PML) Office of Weights and Measures, is recognized "for exceptional leadership in serving as the national focal point for voluntary conversion to the metric system. She led an effort to persuade states to amend their laws and regulations to permit manufacturers and retailers to voluntarily use metric units on their packaging. At the same time, she worked to ensure that the laws of other countries continue allowing current U.S. labeling while the transition occurs."
Nathan Newbury, a physicist in PML's Quantum Electronics and Photonics Division, who "invented and applied fiber-laser frequency combs to address challenging research problems involving subhertz optical spectroscopy, high-frequency metrology, nanometer-precision distance ranging, and ultrahigh-bandwidth communications. His research with fiber-laser frequency combs is being replicated worldwide and has potential contributions to advances in precision timekeeping, climate-change science, and precision manufacturing."
Till Rosenband, a physicist in the PML Time and Frequency Division, is recognized for having developed "the world's most accurate atomic clock, with an uncertainty equivalent to one second in 4 billion years. The clock can be used for exquisitely sensitive measurements of gravity, motion, and other quantities, exploiting the ticking rate to make a new class of sensors, which can be used in mineral exploration, inertial navigation, and new ultraprecise measurements of fundamental physics constants."
For the past 63 years, the Flemming Awards have recognized outstanding men and women in all branches of the federal government. Presented at George Washington University's Marvin Center on June 4, 2012, the awards were first established in 1948 in honor of the commitment of Arthur S. Flemming (1905-1996) to public service throughout his distinguished career, which spanned seven decades and 11 presidencies. The awards are given in three categories: Applied Science, Engineering and Mathematics; Research; and Managerial or Legal Achievement. Awardees are selected by the Arthur S. Flemming Awards Commission and a panel of judges.
 
Ed.: Verb changed in fifth paragraph to more accurately reflect nature of advance. Aug. 13, 2012.