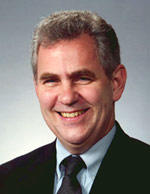 On July 19, 2012, Richard Cavanagh, Director of the Office of Special Programs at the National Institute of Standards and Technology (NIST), testified before the House Committee on Science, Space, and Technology as part of a panel addressing the topic "Keeping America Secure: The Science Supporting the Development of Threat Detection Technologies."
Cavanagh addressed the role of measurement science and technology in improving the speed, sensitivity and accuracy of detection systems meant to deal with chemical, biological and nuclear threats.
NIST works with a spectrum of agencies, including the Department of Homeland Security, the Department of Defense, the Department of Justice, the National Nuclear Security Administration and the Environmental Protection Agency as well as key private sector organizations like the American National Standards Institute (ANSI) and the Institute of Electrical and Electronics Engineers (IEEE). Its work ranges from developing methods and standards to validate the performance of radioactive materials detectors to establishing standard protocols for collecting suspicious biological samples.
"Standards play an important role in reliable threat detection, as they establish the reproducibility of the measurement, the comparability of measurements made at different locations with different technologies, and the comparability of historical data to the data available today," Cavanagh said, "Standards are important in quantifying the level of confidence that can be placed in the data."
Other speakers at the hearing included Dr. Huban Gowadia, Acting Director, Domestic Nuclear Detection Office, Department of Homeland Security; Dr. Anthony Peurrung, Associate Laboratory Director, National Security Directorate, Pacific Northwest National Laboratory; and Dr. Thomas Peterson, Assistant Director, Directorate for Engineering, National Science Foundation.
The full prepared testimony of all four is available on the committee's website.