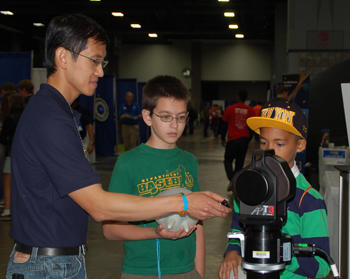 For the second consecutive year, PML played a major role in NIST's contributions to the Science and Engineering Festival in Washington DC. The annual event promotes science, technology, engineering, and math (STEM) by providing students with an up-close look at a wide variety of interactive exhibits. This year's festival, free to the general public, took place at the Walter E. Washington Convention center on Apr. 27-29.
PML offered several interactive demonstrations aimed at a diverse audience of all ages and backgrounds, including measurements using a laser tracker system, photogrammetry measurements, solid-to-gas sublimation, a small weight estimation game, and magnetic levitation (provided and staffed by the Joint Quantum Institute).
Vincent D. Lee, from the PML's Semiconductor and Dimensional Metrology Division, provided a hands-on demonstration of the laser tracker system (LTS) which NIST developed in 1987. For nearly all of the visiting students, it was their first time seeing such an instrument. Each visitor was educated on how NIST continues to support the tracker through standards development and the types of customers who use the instrument. The audience was fascinated with how the LTS gracefully tracked a target, called a spherically mounted retroreflector. Each student got a chance to manipulate the laser tracker using the retroreflector, and many allowed Lee to measure their arm spans to show the tracker in action.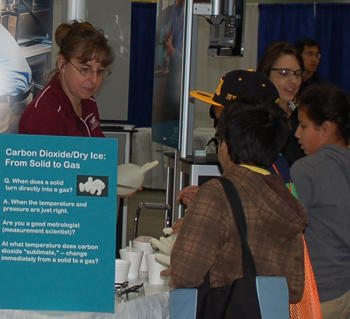 Massimiliano Ferrucci, also from the Semiconductor and Dimensional Metrology Division, demonstrated photogrammetry technology. Using an off-the-shelf digital camera, Ferrucci explained how dimensional measurements can be performed on familiar Washington, D.C. landmarks. He also explained NIST's continual participation on standards development to improve quantification of measurement performance.
The solid-to-gas sublimation demonstration proved to be very popular. PML's Dawn Cross (from the Sensor Science Division), John Gillaspy, and Richard Steiner (both from the Quantum Measurement Division) took turns at the table, along with other NIST volunteers. This demonstration allowed the students to get hands-on experience with pieces of frozen CO2, or dry ice.
"First we talked about the state it was in, which was a solid state," Cross explains. "Then we put a piece in a glove, tied the glove shut, and then noticed how the solid state turned to a gas state. Then we put the dry ice in a cup and put a digital thermometer to see what the temperature of the dry ice was. Last, we added dish soap into a cup that had water already in it, stirred it, and the poured it over a cup of dry ice to watch it boil and bubble."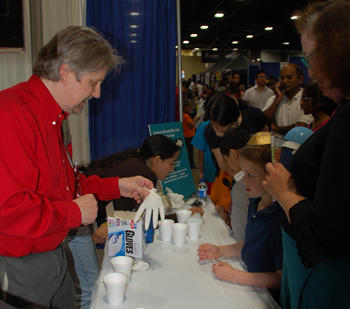 Gillaspy was pleased by how much the students' responses, noting the "the look of wonder in their eyes" and "excitement in their voices as they asked questions." Steiner, who was scheduled until 1:00 PM on Sunday, stayed until 2:30 PM because he didn't want to leave. "I was having too much fun," he confesses. "Toward the end of my day, there was a girl about 5 or 6 years old who I talked to. Every time she caught onto something I said, she just lit up into a smile that she understood something that for her was near magic."
All of the scientists involved look forward to helping next year at this special event. "I saw on the metro going home, kids with their gloves filled with CO2 gas," Cross remembers. "It was a great experience."