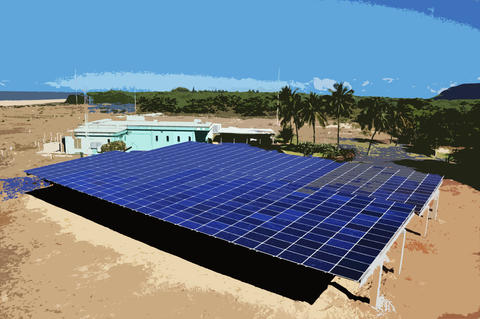 A team from the National Institute of Standards and Technology (NIST) has received the 2012 Energy and Environmental Stewardship award from the Department of Commerce for the design and installation of an array of solar panels. The awards recognize outstanding "green" achievements in 13 different categories, including Renewable Energy.
The photovoltaic array was installed at WWVH in Kekaha, Hawaii, on the island of Kauai. The station is one of two NIST radio stations that disseminate the official U.S. time. The array was designed by Scott Burke, an electrical engineer in NIST's Office of Facilities and Property Management's Engineering, Maintenance and Support Services Division. Project manager Jack Schneider, contract specialist Jason Gerloff, and Dean Okayama, an electrical engineer at the radio station in Kauai, also supported the project.
The photovoltaic system generates 120 kW and offsets a significant amount of the station's electricity needs, helping to reduce costs, as well as the use of polluting fuel oil (which must be imported to Kauai). According to the award application, the project also helps the station "achieve energy independence and maintain continuity of operations of a national critical system."
Completed in November 2010, the array produced 205,655 kWh of electricity in its first year of operation. That translates into a cost savings of $82,262 and reduces the overall electrical demand of WWVH by approximately 20 percent. The system uses commercially available photovoltaic components grouped in modular sub-arrays, which provide flexibility for future expansion and an element of redundancy that would keep the system running even if one component were to fail, albeit at a reduced capacity.
This project, as well as the expansion of the number of photovoltaic arrays on NIST's Gaithersburg, Md., campus, were supported by the American Recovery and Reinvestment Act of 2009.