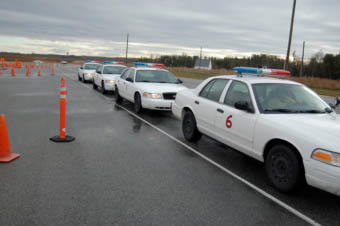 NIST OLES has partnered with the Federal Law Enforcement Training Center (FLETC), Office of Cheltenham Operations (OCH),  to develop the Comprehensive Overview of Police Skills (COPS) program to promote better standards, guidelines and technologies for law enforcement. The program will be held at the FLETC Cheltenham facility, located at 9000 Commo Road Cheltenham, Md. from August 13-15, 2012. This three-day introductory-level course provides an opportunity for NIST federal scientists and engineers to connect with law enforcement and see firsthand how police deploy tools and techniques in the field. Participants will receive hands-on exposure to firearms, driver training, tactics, and physical techniques using standard-issue equipment.
COPS participants will receive training on tactical topics, such as using cover, clearing rooms, and handling suspects with weapons, and will have the opportunity to negotiate a "cover course." Instructors will also introduce the fundamentals of marksmanship, which includes firearms safety and weapons handling skills. To understand other standard-issue equipment, participants will learn about arrest techniques and receive hands-on experience with OC spray, collapsible steel batons, and handcuffs. Finally, participants will navigate the combined skills range in a police car, learning about the four corners of the vehicle on an obstacle course, practicing skid avoidance and recovery, and clearing intersections.
Cost: The course will be covered by OLES.
Lodging and Per Diem: Students whose workplace and residence is 30 miles or greater from the FLETC Cheltenham, MD facility (9000 Commo Road Cheltenham, Maryland 20588-4000) will have their lodging and per diem covered during the 3 days of training. CART will issue invitational travel orders and coordinate these requests. (Air, rail and car travel are NOT covered).
Qualifications for Attendance: Federal personnel.
To reserve your spot or for more information, please email Darby Damuth: darby.damuth [at] nist.gov