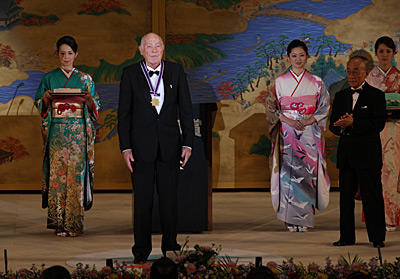 KYOTO, JAPAN — November 10, 2011 — The non-profit Inamori Foundation (President: Dr. Kazuo Inamori) today presented its 27th Annual Kyoto Prizes, Japan's highest private awards for lifetime achievement, in Advanced Technology, Basic Sciences, and Arts and Philosophy.
Each laureate received a diploma, a 20-karat gold Kyoto Prize medal and a cash gift of 50 million yen (approximately US$640,000) in recognition of lifelong contributions to society. The laureates will reconvene in San Diego, Calif. March 20-22, 2012, to participate in North America's eleventh annual Kyoto Prize Symposium.
More from this news release issued by the Inamori Foundation.