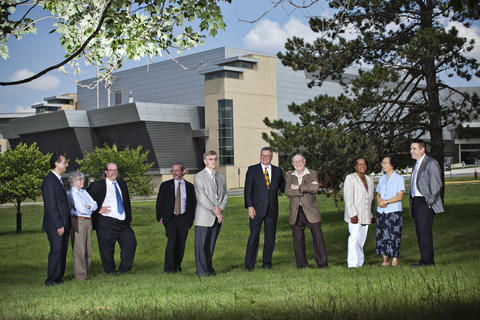 Government Computer News magazine has honored the Digital Library of Mathematical Functions (DLMF), which the National Institute of Standards and Technology (NIST) released last year, with one of its 10 annual awards for information technology (IT) achievement in government.
The awardees, which are chosen by a group of judges from across the public-sector IT community, were selected from more than 200 nominations. According to Government Computer News, all of the recipients " share a commitment to drive down costs and displayed the leadership and engineering skills needed to put the power of some of the world's biggest computer facilities into the hands of individual citizens and professional end users."
Along with its hardbound companion, the NIST Handbook of Mathematical Functions, the DLMF appeared in March 2010 as an update and expansion of the 1964 Handbook of Mathematical Functions, which has sold more than 1 million copies and is the agency's most widely-cited publication of all time. Creating the DLMF, an interactive electronic reference work that is freely available online, required the NIST team to develop not only its own website, but new tools for mathematical authoring, for display of colorful three-dimensional function visualizations, and for searching in mathematics-intense databases, all created specifically for Web-based content.
"Part of the technical hurdle was translating all the complicated math formulas into a format that could be used by the Web," says Dan Lozier, one of the DLMF's authors. "Most users never realize that the tools for displaying math on the Web are still in their infancy—with the DLMF they just see what they need."
Lozier says that because the information in the DLMF is in highly technical form, no off-the-shelf commercial products were capable of delivering it to the public effectively; so the team created their own tools for bringing the functions and interactive graphics to the Web.
"It took a decade of effort," Lozier says, "but the painstakingly verified 10,000 equations, 600 visualizations and 2,500 references in the DLMF should provide scientists and engineers with ready access to information they need to do advanced mathematical modeling and computational simulation well into the 21st century."
The winning projects and their teams are featured in the October 15, 2011, issue of Government Computer News, and they were honored at the magazine's annual gala awards dinner and reception on Oct. 19.
Browse the NIST Digital Library of Mathematical Functions.