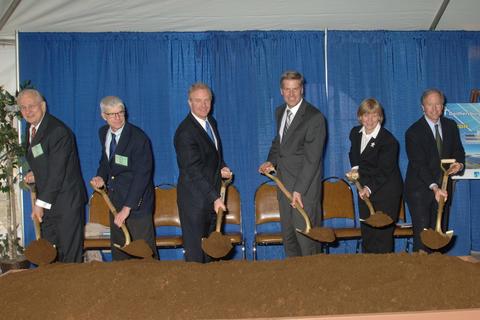 On March 25, 2011, the National Institute of Standards and Technology (NIST) held a groundbreaking ceremony at its Gaithersburg, Md., campus for three new facilities funded by the American Recovery and Reinvestment Act. The Net-Zero Energy Residential Test Facility, the expanded National Fire Research Laboratory, and the installation of more than 2,500 new solar energy modules to supply electricity to the NIST campus will all help to advance the state of the art in green and fire-safe building practices.
Resembling a typical suburban Maryland single-family home, the Net-Zero Energy Residential Test Facility is designed to produce as much energy as it consumes over the course of a year and will serve as a test bed for new home-scale energy technologies. The 2,700-square-foot (251-square-meter), two-story structure will use energy-saving appliances and design, as well as solar panels, to minimize the amount of energy it pulls from the grid and to generate at least an equal amount of energy. During a yearlong demonstration of the house's capabilities, appliances, lights, and kitchen and bathroom fixtures will be computer controlled to simulate a family of four living in the fully furnished home.
The National Fire Research Laboratory will be expanded with a 21,400-square-foot (1,988-square-meter) laboratory space that will provide a unique capability for testing full-scale structures—up to two stories in height—as well as subassemblies and systems under realistic fire conditions.
A hydraulic loading system will help simulate the weight of an occupied building and its contents. Smoke and hot gases will be captured and treated to meet strict environmental requirements and to measure fire characteristics.
The laboratory will be managed and operated as a collaborative facility through a public-private partnership between NIST, industry, academia, and other government agencies.
The new photovoltaic system will represent a dramatic increase in NIST's commitment to implementing renewable energy sources. When complete, the new solar energy system will feed directly into the existing electrical grid, generating more than 700 MWh of electricity annually—enough to power 67 homes. The system will also provide data that will be used to develop models to better predict energy output of photovoltaic modules and arrays.
A field toward the southern end of campus will be home to about 1,150 modules; approximately 1,000 modules will serve double-duty as canopies over a parking lot; modules installed on the roof of the campus' Administration Building will expand an existing solar system array's output threefold; and a small array on another building will power two charging stations for battery-powered maintenance vehicles.
The ceremony featured remarks by U.S. Representative Chris Van Hollen (D-MD-8); Nancy Sutley, chair of the White House Council on Environmental Quality; Henry Kelly, Acting Assistant Secretary and Principal Deputy Assistant Secretary for the Office of Energy Efficiency and Renewable Energy, U.S. Department of Energy; former NIST Director Arden Bement, David A. Ross Distinguished Professor of Nuclear Engineering and Director of the Global Policy Research Institute, Purdue University; and other government officials.