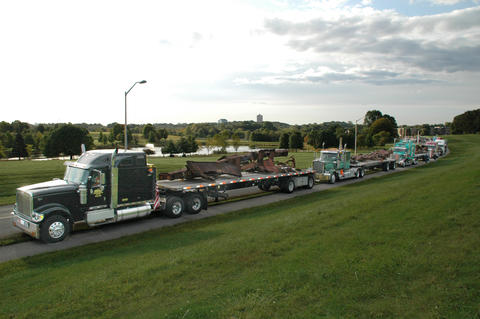 After seven years on the Gaithersburg, Md., campus of the National Institute of Standards and Technology (NIST), more than 200 pieces of structural steel recovered from the World Trade Center towers have been returned to their owner, the Port Authority of New York and New Jersey. Examination of the steel had been an integral part of NIST's multiyear technical investigation into the probable causes of the collapses of the WTC towers following the terrorist attacks on Sept. 11, 2001. On Sept. 29, a convoy of 25 tractor trailers carried the steel from WTC 1 and 2 to New York City.
The tractor trailers, each carrying between 10,000 and 30,000 pounds (approximately 4,500 to 13,600 kilograms) of steel, traveled with a police escort along major highways, attracting attention from motorists and television traffic helicopters. Many of the trucks were decorated with American flags and "Never Forget 9/11" posters honoring the firefighters, police, and others who lost their lives on that day.
The steel transported from NIST is being stored at the Port Authority hangar at New York's John F. Kennedy International Airport that houses previously saved pieces of steel, damaged vehicles and other artifacts from Ground Zero. The Port Authority has announced that it will consider requests for use of individual steel pieces for memorials or exhibits (Requests should be sent via the e-mail feedback form on the Port Authority's Web site, http://www.panynj.gov/feedback/.
All of the WTC steel pieces returned to New York City were catalogued as part of the NIST investigation. NIST has retained all of the samples that were extracted from the recovered steel and examined during the investigation in case retesting is ever required. A few whole pieces also were retained with permission from the Port Authority for possible future display at NIST.
For more information on the NIST WTC investigation, go to http://wtc.nist.gov.