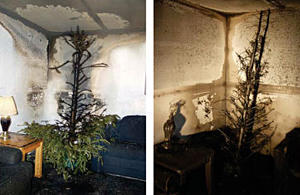 As the weather grows cold and people start planning for the holidays, researchers at the National Institute of Standards and Technology (NIST) have released two new research videos that illustrate the benefit of having sprinkler systems in homes. Scientists exposed two dry Christmas trees to an open flame in a living room mock-up built inside their laboratory and recorded the results.
The video of the room with the sprinkler shows that the sprinkler eventually dampens and extinguishes the tree fire. Without a sprinkler system, the other video shows that the tree burns rapidly. Research videos also confirm that well-maintained, moist trees are much less likely to burn than trees that have not received adequate water in the home.
Christmas trees are involved in causing hundreds of home fires each year. These fires cause injury, death and millions of dollars annually in property damage.
"Fire research, such as our videos and measurement science, are showing the importance of residential sprinkler systems," explains Dick Bukowski, coordinator of codes and standards for NIST's Building and Fire Research Laboratory. Sprinkler systems have been required for years in high-rise buildings, he says, and with the 2009 editions of both of the model building codes, they will be required in all new residential buildings. Fire and building researchers hope that as the number of homes with sprinkler systems increases, the number of fatalities from Christmas tree fires will decrease, says Dan Madrzykowski, a NIST fire protection engineer.
---
* This video was updated in 2017. See the new video below.