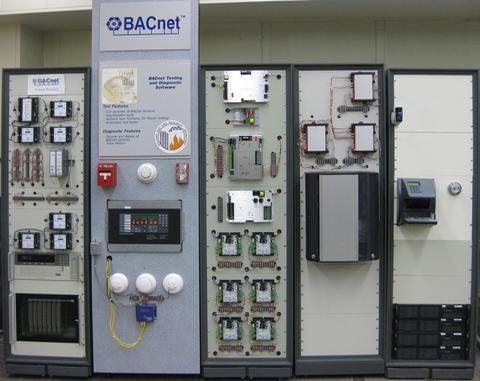 In August, California revised its Title 24 Building Standards Code to incorporate use of the automated fault detection and diagnostics (FDD) technology developed at the National Institute of Standards and Technology (NIST). FDD uses artificial intelligence rules and statistical analysis to find the location of mechanical problems in heating, ventilation and air-conditioning (HVAC) systems, be it valves, temperature sensors, dampers or coils, to improve the performance and energy efficiency of the system.
Buildings consume approximately 40 percent of all energy used in the United States—even more than transportation or industry. A substantial portion of that energy is used for HVAC to keep employees comfortable and computers cool. "Optimizing the way HVAC systems work will cut energy costs by improving efficiency," explains Steven Bushby of NIST's Building and Fire Research Laboratory.
The research began in a NIST lab equipped with an instrumented air-handling unit similar to ones seen on top of small office buildings and a set of variable-air-volume boxes that control air flow into offices. Engineers evaluated typical problems that occur in these systems—for example, what happens when a leaky valve is producing hot air during air-conditioning season. Later, they used a Virtual Cybernetic Building Test Bed at NIST to simulate what faults occur in different types of buildings under a variety of weather conditions. "This allowed us to evaluate which faults can be detected under certain weather conditions," Bushby says.
Next, the fault detection technology was installed and tested in buildings. "In one high-rise building in California, the variable-air-volume boxes were so unreliable that one employee's full-time job was to go throughout the building checking the condition of each variable-air-volume box, and when finished, to start all over again," Bushby explains. With the FDD technology installed, building technicians know precisely which variable-air-volume box needs work when there is a HVAC problem.
The state of California funded part of the FDD research and after seeing its potential, added this automated fault detection and diagnostics tool to its strict building code. "With California taking this step, I believe more people will look at this technology and boost its potential in the marketplace," Bushby says.
The air-handling units and variable-air-volume boxes are just two components of complex HVAC systems. Bushby and colleagues will continue to apply this FDD technology to other pieces of the system.