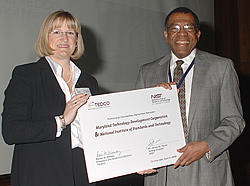 GAITHERSBURG, Md. – More than 200 entrepreneurs and business executives learned today how they can capitalize on cutting-edge nanotechnologies developed in the research facilities at the National Institute of Standards and Technology (NIST). The event, "Opening the Doors to the National Institute of Standards and Technology: Nanoelectronics, Nanofabrication and Nanometrology," which was supported by the Maryland Technology Development Corporation (TEDCO) and the Tech Council of Maryland/MdBio (TCM/MdBio), highlighted more than 21 technologies available for licensing and/or commercialization.
During the event, NIST and TEDCO formally signed a Memorandum of Understanding (MOU), which updates and extends a cooperative relationship between the two organizations. The MOU also establishes mutually beneficial links between NIST and technology-oriented small businesses throughout Maryland.
"This event allows us to highlight the wide range of NIST work in support of the nanotechnology sector," said NIST Acting Director James Turner. "The MOU with TEDCO furthers our important relationship and our partnership can help ensure NIST's work is best focused on the needs of U.S. industry."
 
During the day-long event, attendees received information about the top-notch innovations in nanotechnologies that are being developed at NIST and learned about possible opportunities for successful partnerships. Technologies presented included a method of storing electronic memory on inexpensive flexible plastic sheets; sorting carbon nanotubes through a technique that employs "green" aqueous chemistries and generates minimal waste; and "scatterfield imaging," an award-winning technique that can determine the dimensions and feature sizes of extremely small structures. 
"TEDCO is proud of our relationship with NIST and is pleased to continue it through the renewal of the MOU," said Renée Winsky, president and executive director of TEDCO. "Today's showcase provided attendees with great insight on NIST's highly intricate and advanced innovations, and will help Maryland entrepreneurs and companies benefit from these revolutionary technologies being developed at NIST."
"We are pleased to be a part of such a successful showcase that will help in NIST technologies being brought out of the laboratory into the market," said Julie Coons, CEO of TCM/MdBio. "The field of nanotechnology is constantly emerging and we appreciate that NIST opened their doors for the Maryland technology community."
NOTE FOR EDITORS
High-resolution photographs depicting the formal signing of the MOU between TEDCO and NIST can be obtained by contacting Kathleen Shaffer at (410) 902-5053 or kshaffer [at] mghus.com. 
The Maryland Technology Development Corporation (TEDCO), an independent entity, was established by the Maryland General Assembly in 1998 to facilitate the creation of businesses and foster their growth in all regions of the State. TEDCO's role is to be Maryland's leading source of funding for seed capital and entrepreneurial business assistance for the development, transfer and commercialization of technology. TEDCO connects emerging technology companies with federal laboratories, research universities, business incubators and specialized technical assistance. For the fourth consecutive year, TEDCO was recognized as the most active early/seed stage investor in the nation in the July 2007 issue of Entrepreneur Magazine. For more information on TEDCO and its programs and resources, visit www.MarylandTEDCO.org.
The National Institute of Standards and Technology (NIST) is a non-regulatory agency of the U.S. Department of Commerce. NIST promotes U.S. innovation and industrial competitiveness by advancing measurement science, standards and technology in ways that enhance economic security and improve our quality of life. For more information, visit www.nist.gov.
The Tech Council of Maryland/MdBio (TCM/MdBio) is Maryland's largest technology trade association that brings its 500 plus members access to technology industry leaders in Maryland, DC and Virginia. TCM/MdBio has two divisions, which provide valuable resources and benefits to help businesses succeed. The Tech Alliance serves the advanced technology community and MdBio serves the Maryland biotechnology community. TCM/MdBio helps the region's technology organizations grow through its membership and activities such as networking events, cost saving programs and advocacy initiatives. TCM/MdBio is the preeminent technology professional association in the region. Its mission is to promote the technology industry and to create an environment where technology companies can collaborate, grow and succeed. The Tech Council of Maryland/MdBio is supported in part by a grant from Maryland's Department of Business and Economic Development (DBED). 
Additional Contact: kshaffer [at] mghus.com (Kathleen Shaffer), 410-902-5053 and Morag Muirhead, 410-902-5051