Five years ago on Feb. 20, 2003, pyrotechnics lit during a concert at The Station nightclub in West Warwick, R.I., started a rapidly spreading fire that caused the deaths of 100 people. Within a week, the National Institute of Standards and Technology (NIST) launched a two-year investigation of the tragic event to understand exactly what happened and to make recommendations for change based on those findings.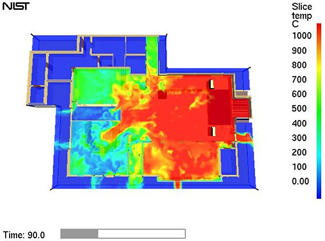 NIST's final report on the fire, released June 29, 2005, made 10 recommendations for increased occupant safety in nightclubs (For the complete list, see "Recommendations–NIST Investigation of The Station Nightclub Fire".) By the time the final report was issued, seven of the 10 proposed safety improvements already had been acted upon by the state of Rhode Island and national model code development organizations. NIST supported the changes to the national model codes and urged all state and local jurisdictions to adopt them. The NIST recommendations included requirements that all nightclubs with occupancies of more than 100 people have sprinkler systems, tighter restrictions on the use of flammable materials in finish products and the maximum permitted evacuation times—90 seconds for nightclubs similar in size to or smaller than The Station.
The remaining three NIST recommendations called for more research on human behavior in emergencies, fire spread and suppression, and computer-aided decision tools—the data from which could yield further improvements in and maximize the effectiveness of these lifesaving regulations. Recent NIST research efforts are taking important steps toward achieving these goals.
One project under way seeks to improve the evaluation of portable fire extinguishers for use in public venues such as nightclubs. Laboratory fire tests at NIST's Gaithersburg, Md., headquarters are being conducted to determine if the current method of rating and locating portable fire extinguishers in areas of assembly (such as nightclubs) is sufficient to enable typically trained nightclub staff to control a worst-case, rapidly spreading fire.
A second study is looking at how fires grow and spread on plastics, polyurethane foams and similar materials that melt and flow when burning. The goal is to develop a state-of-the-art computer model for this fire behavior that can be used to design less flammable furniture and interior wall, floor and ceiling finish materials.
Finally, NIST—working with code making organizations, other federal agencies and universities—has begun a major research program to improve the design and performance of building egress and emergency access systems through a greater understanding of human behavior in emergency situations. NIST and its partners expect this effort to eventually yield advanced building design software that accounts for how people react during evacuations.
For more information on the NIST investigation of The Station nightclub fire, go to www.nist.gov/ncst.