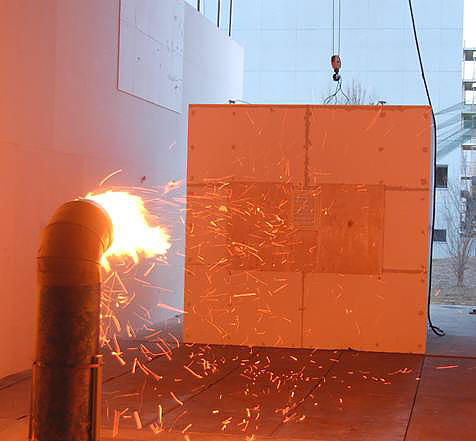 Crackling embers and glowing firebrands might make for a romantic evening in front of the fireplace, but for homeowners in high fire-risk areas, windborne fire material is the stuff of nightmares. To learn how to mitigate such threats, National Institute of Standards and Technology (NIST) researchers have built a firebrand generator that can be used to study the way firebrands ignite structures. The unique device allows for the generation of controlled and repeatable firebrands that can be adjusted to be representative of typical firebrands produced from burning vegetation.
With Japanese colleagues, the NIST researchers are running experiments with the machine in the Fire Research Wind Tunnel Facility (FRWTR) at the Building Research Institute (BRI) in Tsukuba, Japan. The research should help design homes to be more resistant to firebrand ignition in the path of such fires in Wildland-Urban Interface (WUI) zones, areas where structures exist amidst undeveloped land. It should also lead to new building codes and standards to protect homes in the United States and Japan.
Usually fires in WUI zones are caused by "spot" fires that propagate away from the main fire line due to airborne chunks of burning wood and vegetation. In Japan, fires often occur in the aftermath of earthquakes, when displaced traditional ceramic roofing tiles expose the bare wood roof underpinning. As the structures burn, firebrands are produced, and disperse by high winds, resulting in large-scale urban fires. In the United States, the principal threat is forest fires that spread to homes. In California an estimated 41 percent of homes lie in WUI zones, with 3.2 million homes at significant risk from wildfires, according to a report from the Government Accountability Office. Destruction from a single WUI fire event can be severe—in 2003, WUI fires near San Diego, Calif., displaced nearly 100,000 people, destroyed more than 3000 homes and cost over $2 billion in insured losses.*
NIST and BRI fire engineers recently used the NIST firebrand apparatus to observe, for the first time, the mechanism of firebrand penetration through building vents fitted with screens. They generated a controlled firebrand shower onto a structure erected in the Fire Research Wind Tunnel Facility. A gable vent on the front face of the structure and three different-sized steel screens installed behind the gable vent were unable to block firebrands from penetrating the openings. The scientists saw the firebrands burn until the glowing embers fit through the screen openings and ignite fires inside the structure. The results demonstrated the need to design building vents both in Japan and the United States that can resist firebrands.
* Reported at the Second Fire Behavior and Fuels Conference in Destin, Fla., March 26-30, 2007.