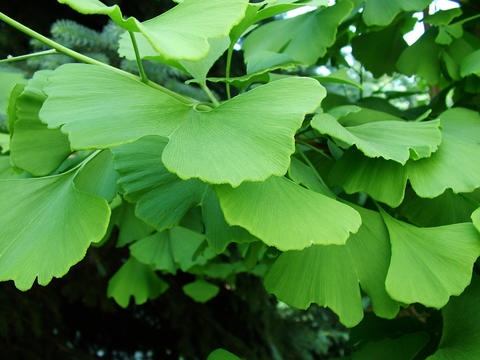 The National Institute of Standards and Technology (NIST) has issued a suite of Standard Reference Materials (SRMs) for ginkgo biloba, one of the most popular dietary supplements in the marketplace, with annual worldwide sales estimated at $1 billion.
The NIST reference materials are designed to help researchers validate the accuracy of analytical methods for flavonoids and terpene lactones (plant constituents that may be associated with the perceived effectiveness of ginkgo) as well as toxic elements in ginkgo*. In addition to supporting measurements associated with clinical trials or verifying product label claims, the reference materials also can be used by dietary supplement manufacturers to improve product consistency.
The fruits and seeds of the female ginkgo are used for a variety of purposes in traditional Chinese medicine. In the West, dietary supplements are more commonly formulated from ginkgo leaves and standardized leaf extracts. They are used in the treatment of asthma, bronchitis, fatigue and tinnitus (ringing in the ears); for memory improvement and for the prevention and treatment of Alzheimer's disease, although these uses have not been backed by rigorous clinical trials. Ginkgo biloba contains a family of chemical constituents known as ginkgolides which have been associated with reduced platelet aggregation. The National Institute of Health's (NIH) National Center for Complementary and Alternative Medicine (NCCAM) notes promising results in a number of areas, but says "larger, well-designed research studies are needed."
The new ginkgo reference materials include: SRM 3246 Ginkgo biloba (leaves); SRM 3247 Ginkgo biloba Extract; and SRM 3248 Ginkgo-Containing Tablets. In addition, the three ginkgo SRMs are available packaged together as SRM 3249. The reference materials come with certified values for five terpene lactones, three flavonoid aglycones and four potentially toxic trace elements (arsenic, cadmium, lead and mercury).
The goal of NIST's ongoing effort with dietary supplements such as ginkgo biloba is to provide tools to the dietary supplement industry and measurement communities that will lead to improved quality of dietary supplements and the studies of their efficacy, as well as to ultimately reduce public health risks that could potentially be associated with the use of these products.
Support for the development of the gingko-related SRMs was provided in part by the National Institutes of Health (NIH) Office of Dietary Supplements (ODS) and the Food and Drug Administration (FDA) Center for Drug Evaluation and Research (CDER).
For more information, see http://ts.nist.gov/MeasurementServices/ReferenceMaterials/upload/Februa….
* C.A. Rimmer, S.B. Howerton, K.E. Sharpless, L.C. Sander, S.E. Long, K.E. Murphy, B.J. Porter, K. Putzbach, M.S. Rearick, S.A. Wise, L.J. Wood, R. Zeisler, D.K. Hancock, J.H. Yen, J.M. Betz, A.N. Pho, L. Yang, C. Scriver, S. Willie, R. Sturgeon, B. Schaneberg, C. Nelson, J. Skamarack, M. Pan, K. Levanseler, D. Gray, E.H. Waysek, A. Blatter and E. Reich. Characterization of a suite of ginkgo-containing standard reference materials. Analytical and Bioanalytical Chemistry. Published online: 7 July 2007. DOI 10.1007/s00216-007-1398-5.