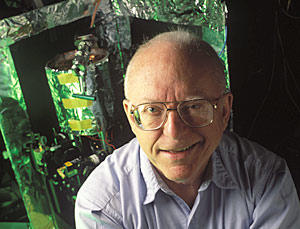 Congratulatory letter from Congressman Boehlert (requires Acrobat Reader)
Boulder, Colo.—John L. (Jan) Hall of the Commerce Department's National Institute of Standards and Technology (NIST) and the University of Colorado at Boulder and Theodor W. Hänsch of the Max-Planck-Institute of Quantum Optics, Garching and Ludwig-Maximilians-Universität, Munich, Germany, today were named winners of the 2005 Nobel Prize in Physics, sharing the honor with Roy J. Glauber of Harvard University.
Hall, 71, is a scientist emeritus in the NIST Quantum Physics Division and a fellow of JILA, a joint research institution of NIST and the University of Colorado in Boulder, Colo. He was one of the founding fellows of JILA (created in 1962 as the Joint Institute for Laboratory Astrophysics), and he significantly contributed to the development of the laser, first demonstrated in 1961, from a laboratory curiosity to one of the fundamental tools of modern science and a ubiquitous component of modern communications systems.
Hall is known as a preeminent laser experimentalist, concentrating on improving the precision and accuracy with which lasers can produce a specific, sharp frequency or color of light, and the stability with which they can hold that frequency. His work has been essential to the development of the laser as a precision measurement tool. In the 1960s he worked on the development of the methane-stabilized helium-neon laser, which became the cornerstone of a famous experiment at NIST to measure the speed of light at least 100 times better than any previous determination. The work ultimately led to a fundamental redefinition of the meter, the basic unit of distance measurement.
Precise control of the frequency and improved stability have enabled a broad range of laser applications in science and technology, including precision spectroscopy for physical and chemical analysis, new tests and measurements of fundamental physical laws and constants, time and length metrology, and fiber-optic communications, among others.
Hall shares the Nobel Prize with Hänsch "for their contributions to the development of laser-based precision spectroscopy, including the optical frequency comb technique."
An optical frequency comb is generated by a laser specially designed to produce a series of very short (a few millionth billionths of a second), equally spaced pulses of light. The shorter a pulse of laser light is, the more individual colors—or frequencies—go into making it, and in the comb the individual frequencies are "locked" so that they stay in phase with each other. The name arises because a graph of the frequencies in the pulse looks like a very fine-toothed comb of equally spaced spikes. The spikes can be used as a sort of measuring stick to determine the frequency of another laser with extraordinarily high precision, currently a few parts in 1,000,000,000,000,000 or better. Such measurements enable a broad array of new technical capabilities that depend on frequency, ranging from better master clocks and subtle experiments on the nature of the universe to a more accurate global positioning system for navigation.
The call came at 3:15 a.m. informing Hall he was a co-recipient of the physics prize. "It was quite unexpected," said Hall. "I already had worked out what I was going to say when it was announced that Ted Hänsch had won."
Hall described the specific work for which he and Hänsch were cited as a coming together of several different strands of laser research developed by a number of researchers over the past four decades. He also cited the agency he retired from in November of last year, "Sometimes the best plan for managing an organization is to get the right people and let them follow where their professional interests take them in areas important to the organization. Then good things happen. The proof of that is the now three Nobel Prizes shared by NIST researchers. I'm extremely grateful to NIST and the Department of Commerce for supporting me in the work I love. The JILA experiment in joint federal lab/university cooperation has created an environment in which excellence of research and post-graduate training can prosper. It's been a great 44 years."
As an agency of the U.S. Department of Commerce's Technology Administration, NIST develops and promotes measurement, standards and technology to enhance productivity, facilitate trade and improve the quality of life.
Quotes about the 2005 Nobel Prize
Secretary of Commerce Carlos M. Gutierrez
All of us at the Department of Commerce are proud of our colleague Jan Hall and his achievements in the area of physics that have culminated with this honor. For many years, Jan has contributed toward the great work done at the Commerce Department's National Institute of Standards and Technology. He and his co-winners were among the foremost figures in the development of the laser as a tool of science and industry. In his dedication to the measurement mission of NIST and the education of young scientists, Jan exemplifies the best in both science and public service.
NIST Director William Jeffrey
Jan Hall's work over the past four decades gave us a firm foundation in precision laser technology—now an essential tool of advanced physics—and has helped keep us at the forefront of the field. We are equally grateful for his life-long work in training and mentoring new generations of inspired physicists, several of whom we now include among our star researchers. On behalf of all of NIST, I congratulate Jan and his colleagues, Ted Hänsch and Roy Glauber, for this well-deserved recognition.