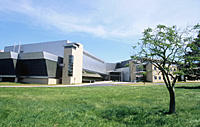 Photos and graphics on display in the AML gallery
Considered the most technically advanced research facility of its kind in the world, the new Advanced Measurement Laboratory (AML) dedicated today at the Commerce Department's National Institute of Standards and Technology (NIST) will support some of the world's most delicate experiments in nanotechnology and measurement at the atomic level. Commerce General Counsel and Deputy Secretary Designate Theodore W. Kassinger, Sen. Paul Sarbanes (D-Md.), Rep. Chris Van Hollen (D-Md.) and Dr. John H. Marburger III, director of the White House Office of Science and Technology Policy, were among the participants in the formal opening ceremony today at the NIST campus in Gaithersburg, Md.
The $235 million, 49,843 square meter (536,507 square foot) Advanced Measurement Laboratory features five separate wings—two of them buried 12 meters (39 feet) under ground—with stringent environmental controls on air quality, temperature, vibration, and humidity. The new facility allows NIST to provide the sophisticated measurements and standards needed by U.S. industry and the scientific community for key 21st century technologies such as nanotechnology, semiconductors, biotechnology, advanced materials, quantum computing and advanced manufacturing.
"At the end of the day, our nation and our citizens will be safer, healthier and more productive as a result of the work that will be done here," Kassinger said. He noted that the United States faces challenging global competition, stating, "We need every edge we can get; combined with our talented, dedicated personnel, this laboratory is an edge like no other."
The construction of the AML was itself a research effort even before ground was broken in June 2000. Institute scientists created "testbed" laboratories to try out concepts for some of the building's most exacting specifications in temperature and vibration control. While the majority of the building's laboratory spaces can be temperature-controlled to within a quarter of a degree Celsius, some highly isolated lab modules can be controlled to within a hundredth of a degree.
Special features of the facility include:
338 reconfigurable laboratory modules;
a Class 100 (3.5 particles per cubic liter of air) cleanroom, the 8,520 square-meter (91,700 square-foot) nanofabrication facility that will be operated as a user facility for research by industry, government and academic researchers;
enhanced air quality – air fed to the AML laboratories is filtered with HEPA (high efficiency particulate air) technology, delivering about a thousand-fold improvement in air cleanliness over NIST's existing general purpose laboratories;
temperature control – from baseline temperature control within ±0.25 degree Celsius to within ±0.1 or ±0.01 degree Celsius for 48 precision temperature-control laboratories;
vibration isolation – from a baseline velocity amplitude of 3 micrometers per second or less down to 0.5 micrometer per second in 27 low-vibration modules;.
humidity control – from a baseline of ± 5 percent down to ± 1 percent in special laboratory sections;
electrical power filtering – AML-wide uninterruptible power supply prevents outages and counters voltage spikes, drop-outs and other "dirty power" problems that limit accuracy and precision, reduce analytical sensitivity and cause long-running experiments to crash; and
"green building" features – natural daylighting, energy conservation and recycling were emphasized in AML design and operation.
NIST research efforts planned for the new facility range from improved calibrations and measurement of fundamental quantities such as mass, length and electrical resistance to the development of quantum computing technology, nanoscale measurement tools, integrated micro-chip-level technologies for measuring individual biological molecules, and experiments in nanoscale chemistry.
The AML was designed by HDR Architecture Inc. of Alexandria, Va., and constructed by Clark/Gilford, a joint venture of The Clark Construction Group Inc. of Bethesda, Md., and Gilford Corporation of Beltsville, Md.
As a non-regulatory agency of the U.S. Department of Commerce's Technology Administration, NIST develops and promotes measurement, standards, and technology to enhance productivity, facilitate trade and improve the quality of life.
More details are online. A gallery of AML photos and graphics (with captions and high-resolution versions) is available at www.nist.gov/public_affairs/aml/aml_graphics_gallery.htm.