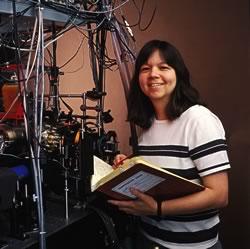 Deborah Jin, 34, a physicist at the Commerce Department's National Institute of Standards and Technology (NIST) in Boulder, Colo., and adjoint assistant professor of physics at the University of Colorado at Boulder (CU-Boulder), has been named a 2003 winner of a $500,000 MacArthur Fellowship, commonly known as the "genius grant." The fellowship is awarded by the John D. and Catherine T. MacArthur Foundation of Chicago.
Jin is a fellow of JILA, a laboratory run by NIST and CU-Boulder.
The MacArthur Fellows Program awards unrestricted fellowships to talented individuals who have shown extraordinary originality and dedication in their creative pursuits and a marked capacity for self-direction. There are three criteria for selection of fellows: exceptional creativity, promise for important future advances based on a track record of significant accomplishment and potential for the fellowship to facilitate subsequent creative work.
The program is intended to encourage people of outstanding talent to pursue their own creative, intellectual and professional inclinations. The fellowship is a "no strings attached" award in support of people, not projects. Each fellowship comes with a stipend of $500,000 to the recipient, paid out in equal quarterly installments over five years.
Past MacArthur Fellowship winners include World Wide Web inventor Tim Berners-Lee, poet Joseph Brodsky, population expert Paul Ehrlich, elephant researcher/conservationist Cynthia Moss and magician James Randi.
In 1999, Jin and graduate student Brian DeMarco created a new quantum gas that was named one of the top 10 scientific advances of the year by the journal Science. They cooled a vapor of fermions—one of the two basic types of quantum particles, along with bosons—to a temperature less than a millionth of a degree above absolute zero using lasers and magnetic traps. The result was a quantum state in which atoms behave like waves.
Fermions are important throughout physics because the basic building blocks of matter—electrons, protons and neutrons—all are fermions. Jin and DeMarco's research is a step toward a better understanding of these building blocks and may lead toward a new generation of atomic clocks and atom lasers.
Jin is the fourth CU-Boulder faculty member to receive a MacArthur Fellowship in the past four years and the seventh since the program began in 1981.
Jin graduated from Princeton University in 1990 and received her Ph.D. in physics from the University of Chicago in 1995. From 1995 to 1997, she was a National Research Council research associate with NIST, working at JILA. After her postdoc assignment, Jin was hired as a NIST physicist and assistant professor adjoint in 1997.
Jin is the recipient of several awards, including the 2002 Maria Goeppert-Meyer Prize from the American Physical Society, the 2002 National Academy of Sciences award for initiatives in research and the 2000 Presidential Early Career Awards for Scientists and Engineers (PECASE), the highest honor bestowed by the U.S. government on young professionals at the outset of their independent research careers.
As a non-regulatory agency of the U.S. Department of Commerce's Technology Administration, NIST develops and promotes measurement, standards and technology to enhance productivity, facilitate trade and improve the quality of life. For more information on NIST, visit www.nist.gov.
The University of Colorado at Boulder is a comprehensive research institution located in the foothills of the Rocky Mountains and has an enrollment of 29,151 students. CU-Boulder was founded in 1876 and is known for its strong programs in the space sciences, environmental sciences, natural sciences, education, music and law. It received a record $250 million in sponsored research funding last fiscal year.
Comments About Deborah Jin
Secretary of Commerce Don Evans
"All of us at the Department of Commerce are extremely proud of Deborah Jin of Commerce's National Institute of Standards and Technology who has been honored with the MacArthur Fellowship. She is an exemplary scientist, whose enthusiasm for discovery represents the best of the Commerce Department and the U.S. government."
NIST Director Arden Bement, Jr.
"NIST congratulates Deborah Jin for receiving this tremendous honor. The MacArthur Fellowship goes to persons of unlimited creativity and originality, unwavering dedication to the pursuit of excellence, and unending commitment to the betterment of others. Deborah exemplifies all of these characteristics and more."
University of Colorado President Elizabeth Hoffman
"Our faculty exemplify excellence and continue to comprise our greatest strength. CU is proud to boast a new MacArthur award winner in each of the last four years, making us one of only two universities in the country to claim this honor. It provides true evidence of the quality education our students are receiving."
CU-Boulder Chancellor Richard L. Byyny
"For a remarkable fourth time in four years it is my honor to congratulate a Boulder faculty member on being named to the prestigious group of MacArthur Fellows. Deborah Jin is an outstanding physicist and a valued teacher of undergraduate and graduate students, and this recognition is another example of the benefits of partnering with Boulder laboratories."
NIST Physics Laboratory Director Katharine Gebbie
"The Physics Laboratory is thrilled that Debbie Jin has won this prestigious MacArthur Award. She has both the intellect and the drive to be one of the truly creative and innovative scientists of this century. Within two years of her appointment at NIST, she had seen the first evidence for degeneracy in a fermionic atomic gas, and she has run with it from there. This is a great honor for Debbie, for JILA, for the Physics Laboratory and for NIST."
James Faller, Chief of the NIST Quantum Physics Division, in which Jim works
"I'm delighted. Debbie has an inquiring and creative mind. She is a super scientist and an incredible human being. During the five-year term of the fellowship, I'm certain that the MacArthur Foundation will be extraordinarily pleased with her."
NIST Boulder Laboratories Director Zelda Chapman Bailey
"My heartfelt congratulations to Debbie. We are proud to have her on the NIST staff and pleased about this latest achievement by a NIST scientist at JILA. It is wonderful to see that her outstanding talents in physics are being recognized. She continues a long JILA tradition of working at the foundations of physics, while remaining mindful of NIST's mission."