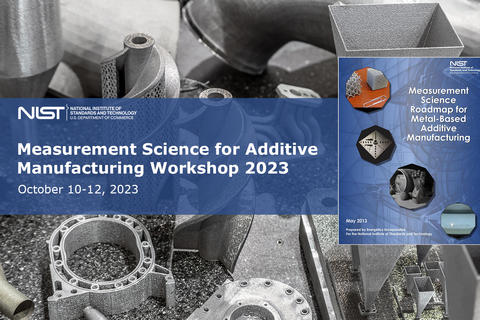 Background
A 2012 NIST workshop gathered leaders from industry, academia, and government to help identify priority measurement science needs in metals additive manufacturing (AM).  The results from this workshop led to the Measurement Science Roadmap for Metal-Based Additive Manufacturing (Roadmap Here), a document that has since provided continued direction for the NIST Measurement Science for Additive Manufacturing (MSAM) Program.  Through the MSAM program NIST has led research to advance the understanding of AM materials, processes, inspections, design, and digital thread while establishing itself as a valuable contributor in the AM standards arena.
The past decade has seen significant developments in metals AM, where AM technologies are being increasingly sought as a viable production alternative by various industries, including aerospace, automotive, medical, power, and defense.  Fundamental advancements in materials characterization, process monitoring and control, and non-destructive evaluation have been leveraged to better inform design and process planning, leading to reduced uncertainties in the overall AM fabrication process.  While fundamental challenges undoubtedly remain, new challenges continue to emerge with the large-scale adoption of AM and the industrialization of AM systems. 
New challenges associated with attaining increased throughput (e.g., faster design, process qualification, fabrication, part qualification), improved quality (e.g., enhanced scan strategies, feedback control, self-healing, part inspection, part assurance), streamlined supply chain integration (e.g., consistent data packages, product definitions, digital twins) and advanced data management (e.g., in situ data registration, data fusion, machine learning, uncertainty quantification), amongst other considerations, are just now beginning to emerge. This workshop aims to help position NIST to continue to support stakeholders by helping to overcome future metals-AM challenges in the coming decade.
For more information, please see the Measurement Science for Additive Manufacturing Program Page
Goals for the Workshop: 
To inform the NIST MSAM stakeholders on recent happenings in MSAM efforts, focusing on process monitoring and control, testing and inspection, materials characterization, rapid qualification, data management, cybersecurity, and communications and systems interactions; and

To provide a mechanism for the NIST stakeholders to provide input on their current and ongoing challenges related to metals additive manufacturing, which may be addressed through NIST measurement science research.