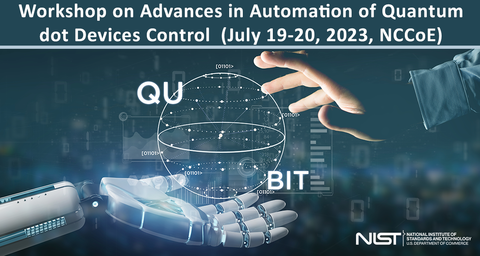 The purpose of the workshop is to convene stakeholders from industry, academia, and the government interested in the research and development of semiconductor quantum computing technologies. Topics to be discussed include opportunities for research and development of tuning, characterization, and control methods for semiconductor quantum dot devices, the need for facilitating interaction and collaboration between the stakeholders to build a large open-access database of experimental and simulated data for benchmarking new machine learning algorithms, determining key performance metrics for the various aspects of the tuning, characterizing, and controlling of quantum dot devices, and identifying barriers to near-term and future applications of the auto-tuning methods. Furthermore, this workshop will provide a discussion place to consider methods of collaboration in a neutral setting and future roadmap development for methods for tuning large-scale devices.
WORKSHOP OBJECTIVES:
(1) Identify public or restricted use datasets related to the various phases of tuning semiconductor quantum dot devices that are available for training and benchmarking new artificial intelligence models or to test hypotheses using data mining/machine learning methods. Describe the research needs that are not being met by the datasets that are currently available.
(2) Describe the work researchers need to do to access, and then explore the quality of, an existing dataset before conducting research with it. Identify what aspects of this work could be reduced or conducted just once so that future researchers can reduce the time needed to complete a research project.
(3) Describe promising approaches to testing and improving the validity of performance metrics within large datasets, especially those datasets that consist of experimental data that does not come with ground truth labels.
(4) Describe whether existing datasets, both simulated and acquired experimentally, contain data that are valuable for researchers and are of sufficient quality that research could be conducted with a high amount of rigor.
(5) Describe to what extent existing datasets capture enough information to address research related to all aspects of tuning quantum dot devices. Identify what additional data should be collected to address these research questions.
(6) Describe the best practices for creating new datasets or linking existing datasets and sharing them with researchers (open or restricted use) while adhering to local, State, and Federal laws. Identify barriers and limitations that currently exist.
(7) Describe what role NIST can play in developing infrastructure that supports the use of large-scale datasets for research on tuning quantum dot devices