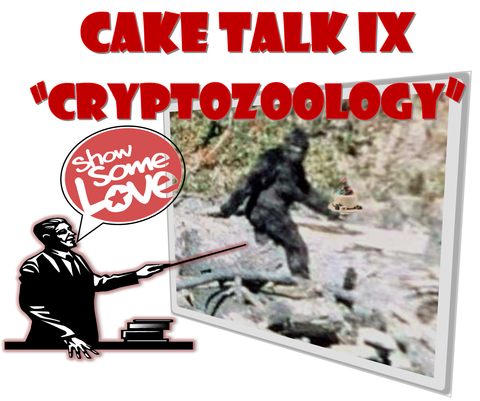 Dear NIST and Department of Commerce Employees:
We're pleased to announce the 9th installation of the annual train wreck we call Cake Talk – the NIST Combined Federal Campaign fun-raiser that makes glorious mountains out of humble molehills.  Cake Talk IX will be held on December 13th, 2019 at 10:30 am in the Heritage Room.
This year, the Cake Talk theme is Cryptozoology.  Crypto-What? We are so glad you asked.  Cryptozoology is the study of cryptids, i.e. mysterious creatures for which the only evidence is strange smells, footprints, and hazy photographs.  The classic American cryptid is Bigfoot.  Did you know that Bigfoot has been seen in every state except Rhode Island?  It's true.  We don't know what the ape-cryptid has against the Ocean State, but it would apparently rather be in Florida where they call it the Skunk Ape.  We think that's sad.
Every country has its cryptids whether they are lake serpents, giant earthworms, somehow surviving dinosaurs, bat boys, moth creatures etc, and every country has cryptozoologists who venture into the night in an attempt to capture images of these beasts with infra-red cameras.  Yet, evidence remains sparse.  Some people even say that cryptids don't exist.
Fie on those naysayers!   Make a Cake in tribute to your favorite cryptid and make a short presentation about it – about 3-5 minutes.  Bring that cake and the talk to the Heritage Room, which will be full of your admiring colleagues, and give that talk and show your cake.  This is the route to LIFE CHANGING GLORY.  Afterwards, we will auction off the cake with a CFC pledge auction.  That's like an auction without cash money, in which folks bid with IOUs to contribute a CFC charity of their choice.  It sounds weird, and we've never actually tried it that way, but this is a research institution and we're going to do some experiments, darnit.  After all the presentations there will be voting of some kind and the auction and voting will come together such that three lucky contestants will have LIFE CHANGING GLORY plus minor prizes.
If you want to enter the Cake Talk IX contest, achieve LIFE CHANGING GLORY, attract some pledges to CFC charities, and maybe win a prize, send a title and short abstract of your Cake Talk to mfasolka [at] nist.gov (mfasolka[at]nist[dot]gov) by December 9th, 2019, COB.  DO IT.
If you don't want LIFE CHANGING GLORY, but would like to join the fun, perhaps bid on a Loch Ness Monster cake with a pledge to a CFC Charity, win that cake and take it home to be a centerpiece on your holiday table, just show up at the Heritage Room on December 13th, 2019 at 10:30am.  All NIST and DOC employees are welcome.
As always, the Cakes will be ornate (if not a little scary), the talks amusing (if not hilarious), and awareness of giving to great causes though the CFC will be raised.