CIRMS 2018 Annual Meeting
Share
meeting
April 16, 2018

to

April 18, 2018
NIST Administration Building (101) Green Auditorium, Gaithersburg, Maryland
The registration fee is $357.00 and includes conference materials, participation in Plenaries and poster sessions, refreshments during coffee breaks, lunches and a dinner.
Registration Contact
Technical Contact
External Contact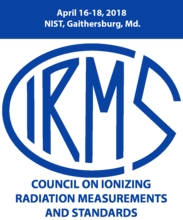 This year's topic is RADIATION TECHNOLOGIES FOR THE FUTURE. This is a great opportunity to participate in fruitful and stimulating discussions and listen to more than 50 outstanding speakers on a diverse number of topics in ionizing radiation and identify needs for Measurement Standards. Topics include the fields of medical physics, radiation protection, advances in detector instrumentation, radiation processing, materials modification, space applications, microdosimetry, imaging, radiation biology, radiation therapy and diagnostics, emergency response to nuclear events and more.  The meeting is composed of morning plenary presentations and afternoon parallel working group sessions.
In addition, novel cutting edge technologies in ionizing radiation will be discussed in various fields. For example, come and hear about:
DARPA's Electrical (Medical) Prescription program and its application to ionizing radiation, https://www.darpa.mil/news-events/2015-10-05
The challenges & needs to be addressed in the Breakthrough Starshot Mission https://www.youtube.com/watch?v=4ixojIvymxM
How Big Data and Machine Learning will help improve radiation treatments
DNA Dosimetry
ASTM Standards & Innovation
The future of Radiation Processing and Sterilization
And more ….
Abstract Submission Deadline: Monday, February 26, 2018 
Submit Your Abstract Here
Lodging
Conference registration does not include your hotel reservation. 
A block of rooms has been reserved at:
Hilton Washington DC North/Gaithersburg
620 Perry Parkway
Gaithersburg, MD 20877
(301) 977-8900
Hilton Washington DC North/Gaithersburg
Book your Hilton hotel room here
You can also call the front desk of Hilton at 1 (301) 977-8900 ext.1 (reservations) 
If calling, please make sure to mention that you are attending NIST/CIRMS Meeting,
group code: ANC1.
Check-in: 15-APR-2018
Check-out: 18-APR-2018
There is a special rate of $119.00 per night + taxes, breakfast, complimentary shuttle to/from NIST, free high speed internet and parking included. 
Book by April 1st, 2018 to reserve your room!
Security instructions
If you are not registered, you will not be allowed on site. Registered attendees will receive security and campus instructions prior to the workshop.
NON U.S. CITIZENS PLEASE NOTE: All foreign national visitors who do not have permanent resident status and who wish to register for the above meeting must supply additional information. Failure to provide this information prior to arrival will result, at a minimum, in significant delays in entering the facility. Authority to gather this information is derived from United States Department of Commerce Department Administrative Order (DAO) number 207-12.
*New Visitor Access Requirement: Effective July 21, 2014, under the REAL ID Act of 2005, agencies, including NIST, can only accept a state-issued driver's license or identification card from states that are REAL ID compliant or have an extension. See the Department of Homeland Security (DHS) site for the current compliance list. 
NIST currently accepts other forms of federally issued identification in lieu of a state-issued driver's license, such as a valid passport, passport card, DOD's Common Access Card (CAC), Veterans ID, Federal Agency HSPD-12 IDs, Military Dependents ID, Transportation Workers Identification Credential (TWIC), and TSA Trusted Traveler ID. 
Other Contacts
Created January 19, 2018, Updated April 11, 2018