This conference will establish the current state of service life prediction methodologies and produce the roadmap for future technical, standards, and commercial needs for polymer containing materials exposed to outdoor weathering. This conference builds on the success of the previous on Service Life Prediction meetings held in 2013, 2006, 2004, 1999, and 1997. The results of this meeting will be compiled into a published volume.
All areas of the service life prediction will be addressed including: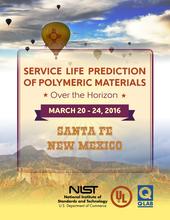 Advances in Field exposures
Advances in Laboratory exposures
Challenges related to specific applications (PV, nuclear, wind, construction)
Characterization of polymer properties
Correlation between Lab. And Field Exposure
Effect of coating weathering on substrate corrosion
How to Understand Moisture in SLP
Industrial needs for service life prediction
New Material challenges
Progress in validating service life prediction models
Reliability and Durability of Polymeric and Nano- Materials
Standards needs
---
Service Life Prediction of Polymers and Plastics Exposed to Outdoor Weathering

Editors: Christopher C. White Kenneth M. White James E. Pickett
Hardcover ISBN: 9780323497763
Imprint: William Andrew
Published Date: 29th September 2017
Page Count: 334
View all volumes in this series: Plastics Design Library

If you have questions, please contact Chris White at (Christopher.white [at] nist.gov) or (301) 975-6016.
---
Presentations (Restricted Access) - Upload and view all conference presentations.
---