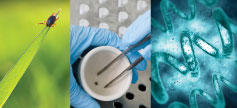 The National Institute of Standards and Technology (NIST), Gaithersburg, MD, hosted a Lyme Disease Workshop on June 6th, 2013. The Workshop focused on the challenges of measurement in Lyme disease. The goal of this workshop was to accelerate the development of sensitive and specific tests for Early Lyme disease and Post-Treatment Lyme Disease Syndrome.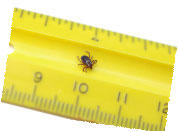 This workshop provided a venue for discussion of a variety of promising technologies and techniques for addressing the measurement of Lyme disease. It was hoped that through increased awareness, research collaboration and creative solutions, we may accelerate the time to development of effective biomarkers needed for more reliable diagnosis and management of the different stages of Lyme disease.
Participants:
The participants in this workshop were scientists and physician scientists from the academic, government and private sectors. The common thread uniting the audience was a focus on advancing measurement tools for the better diagnosis and management of Lyme disease.
NIST Lyme Disease Workshop Agenda
NIST Lyme Disease Workshop Bibliography
Webcast:
The workshop was webcast from this page June 6, 2013 and is available for playback. Breakout Sessions were not webcast live.
Comments during the webcast? Please submit to: lymediseaseworkshop [at] nist.gov