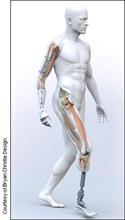 Society is at the threshold of a new age when machines will no longer be separate, lifeless mechanisms, but will instead be intimate extensions of the human body. Such a merging of body and machine will not only improve the quality of life for disabled people, but will allow persons with normal physiologies to experience augmented capabilities -- cognitively, emotionally and physically. Current research is blurring the distinction between "able bodied" and "disabled," demonstrating technologies at the neural-digital interface. New research initiatives are capable of addressing a plethora of conditions currently at clinical impasses, from social-emotional prostheses for persons with autism, to robots that monitor the health of children or the elderly, to the development of smart prostheses that can emulate -- and even exceed the capabilities of-- biological limbs. 
Anyone outside NIST wishing to attend must be sponsored by a NIST employee and receive a visitor badge.

For more information, contact Kum Ham at 301-975-4203.
Colloquia are videotaped and available in the NIST Research Library.