The source of the peculiar accuracy of certain medieval maps known as Portolan charts has been a mystery that has stumped scholars for hundreds of years. In this presentation I will describe the surprising accuracy of these maps, produced from 1270-1550, using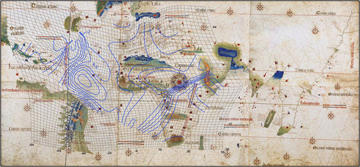 mathematical models based on stochastic processes, like Brownian bridges, and tranformational geometry. I will also show how the geometry of these charts develops out of the non-systematic nature of early navigational measurements and the chaotic shifting of the secular part of the earth's geomagnetic field, hints of which are encoded in the data used to make the charts themselves.
Anyone outside NIST wishing to attend must be sponsored by a NIST employee and receive a visitor badge.

For more information, contact Kum Ham at 301-975-4203.


Colloquia are videotaped and available in the NIST Research Library.