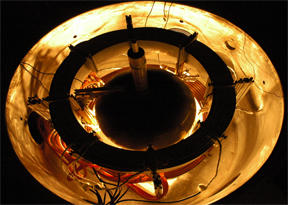 Daniel Lathrop, Director
Institute for Electronics & Applied Physics
University of Maryland
The Earth's magnetic field is dynamic and evolving in a way that suggests we are headed for a magnetic reversal. As there is no predictive science of geomagnetism, we currently lack even simple forecasts. Our scientific understanding is hampered by the complex state of flows within planetary cores that are responsible for generating the magnetic field. We probe aspects of the dynamics of flows in planetary cores and stars using experiments in liquid sodium, liquid helium, liquid nitrogen, or water (not, of course, mixed together!). Using these, we explore how turbulence is affected by rotation and magnetic fields. These experiments are opening up new insights into the dynamics of the Earth's outer core, other planetary interiors, and a host of astrophysical objects.
Anyone outside NIST wishing to attend must be sponsored by a NIST employee and receive a visitor badge. For more information, call Kum J. Ham at 301-975-4203.
Colloquia are videotaped and available in the NIST Research Library.